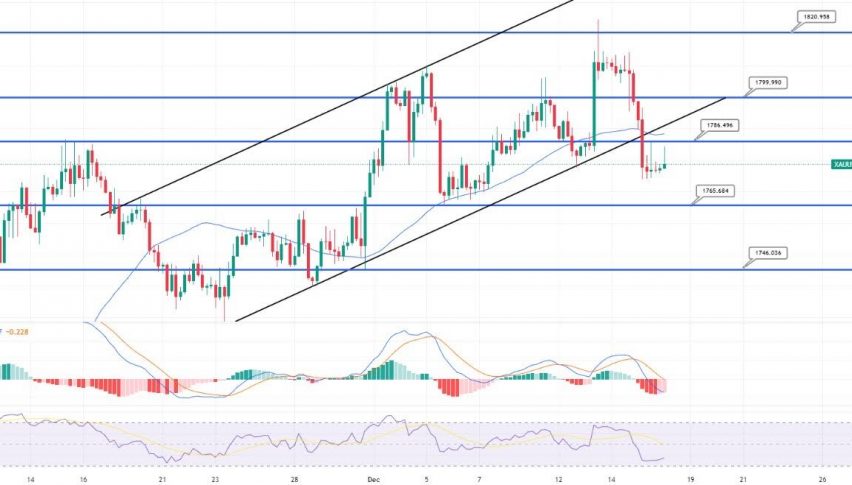 Gold Regains Support at $1,775 – Time to Buy?
The gold price is fighting to sustain above the important resistance level of $1,780.00 in the early European session. The precious metal XAU/USD is under a lot of pressure because western central banks are raising interest rates to slow down inflation. The European Central Bank (ECB), the Bank of England (BOE), and the Swiss National Bank (SNB) all raised interest rates by 50 basis points (bps), just like the Federal Reserve (Fed).
Investors are waiting for preliminary S&P PMI data, which will be released on Friday, for more direction. According to predictions, the manufacturing PMI will remain constant at 47.7, while the service PMI will rise to 46.8 from the previous release of 46.2. As the trading volume goes down before the holiday week, investors should get ready for a long period of less volatility.
The US Dollar Index (DXY) fell to roughly 104.30 in the early Tokyo session but has since recovered slightly. Meanwhile, S&P 500 futures are expected to continue their downward trend in the face of rising recession risk in the United States. In his monetary policy address, Fed chair Jerome Powell cited, "No one knows whether there will be a recession or not." The uncertainty surrounding the recession scenario has caused volatility in US shares.
Gold Technical Outlook
Gold price strongly broke the bullish channel's support line to begin bearish correction for the rise that began from $1,620 areas, paving the way for negative targets that begin by exceeding $1,776.25 to head towards $1,746.40 as the next correctional station, making the bearish bias suggested for the rest of the day unless the price rallied to breach and hold above $1,794.
Today's trading range is likely between $1,770 at support and $1,795 at resistance.
Today's forecast: Bullish above $1,775