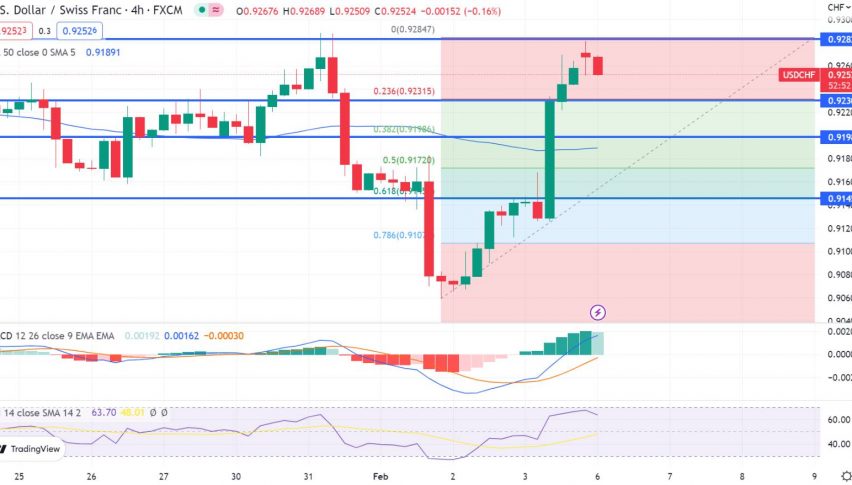 US Dollar On The Rise: A Quick Look At GBP/USD And USD/CHF Signals
Posted Monday, February 6, 2023 by
Arslan Butt
• 2 min read
The USD/CHF currency pair is seeing a significant increase during the North American trading session on Friday as Wall Street is expected to close the week with losses. At present, the USD/CHF is trading at 0.9260, which is a jump of 1.42% compared to its opening price.
USD/CHF Price Analysis
The USD/CHF pair recently moved past two downwards trending lines of resistance, suggesting further falls could be likely. The bullish uptrend on the 20-day Exponential Moving Average (EMA) indicates that a crucial resistance level has been reclaimed at 0.9210. If this is cleared, it could indicate further growth for the market.
If the USD/CHF is able to exceed the January 31 daily high of 0.9288, then it can set its sight on breaching the 50-day Exponential Moving Average (EMA) at 0.9307. Further, if it does so, then January's 12th high at 0.9360 is within reach too.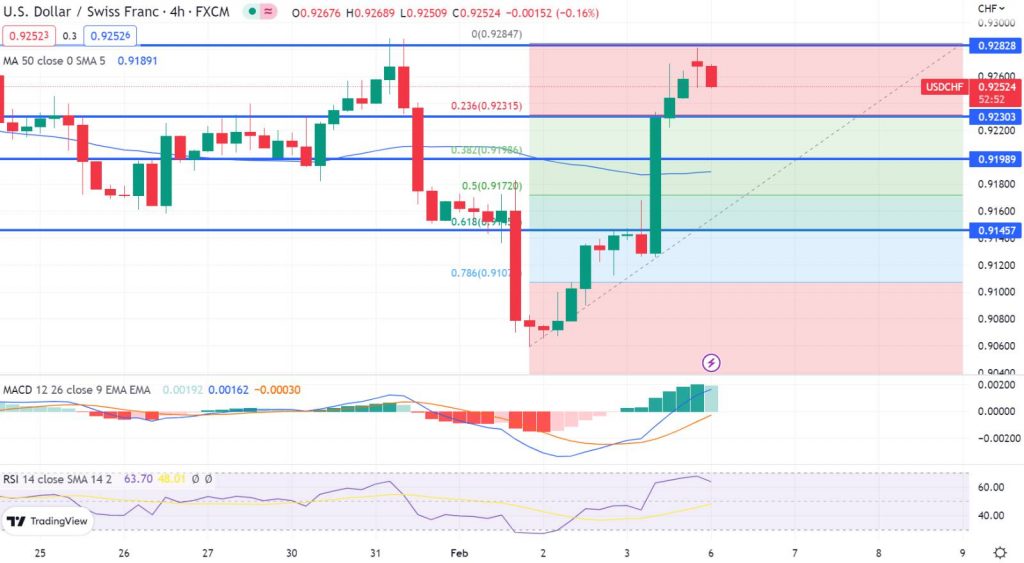 Conversely, the first level of support for USD/CHF lies at the 20-day EMA of 0.9210. If bears reclaim it, a drop below 0.9200 is likely to follow with the February 3 low at 0.9112 being in its wake.
GBP/USD Price Analysis
GBP/USD has been going down for three days in a row, taking it close to the 1.2000 psychological level. At the moment, it is standing near 1.2030. The GBP/USD pair have managed to maintain gains despite various negative catalysts concerning the UK and Bank of England, while also taking cues from the Federal Reserve's strong stance before Chair Powell's speech.
Last week, the Bank of England raised the interest rate by 0.50%, in line with expectations. After the announcement, Andrew Bailey, BoE Governor stated that their forecasts show inflation will go down drastically in the near future.
When asked if the interest rates were at their highest level, BoE Governor Bailey said that the language used has been revised. He went on to say that this change in language suggests a shift but it is still in its early days.
BoE Chief Economist Huw Pill recently asserted that the Bank of England needed to take a cautious approach with monetary policy, asserting that it was important for them to "not do too much". He made this statement on Times Radio on Friday.
The GBP/USD pair is slowly moving away from the broken support of the bullish channel, which will uphold a bearish trend. Price stability below 1.2265 is necessary to maintain the trend, and our expected targets are 1.2090 and 1.1940 respectively.
Today's trading range is anticipated to be between 1.2110 as the lowest and 1.2290 as the highest. Support at 1.2110 and resistance at 1.2290 are expected accordingly.