EUR/USD Breaks Below the 20 SMA, but Now Forming a Bullish Chart Pattern at the 50 SMA
Over the last few weeks, the EUR/USD has been surging higher, and it has picked up the pace in its surge over the last few days. The 20 SMA (grey) has been keeping the uptrend in place, meaning that the uptrend is quite strong currently.
Today, however, this moving average had to let go- as know, a trend can't continue forever, or it won't unfold on a straight line, and pullbacks such as this would be certain. Every trader needs to reshuffle his position now and again, and take profit once in a while.
The EUR/USD has been sliding lower after failing to break the 1.23 level. The buyers made several attempts at that level, but after failing, it seems that they have given up for the moment.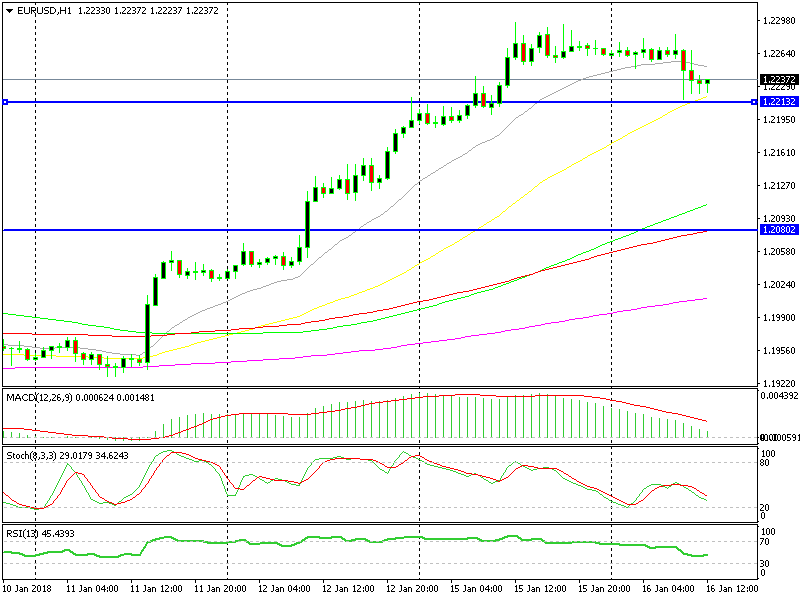 The reverse higher is building up on this timeframe chart
This morning, we're in retracing mode, part of this being owed a mild USD strength.The price is finding support at the 50 SMA on the H1 chart.
As you can see, the last few hourly candlesticks have reached 1.2215-20, but the sellers couldn't push further below, not even reaching 1.22. From this, we conclude that buying pressure remains strong.
The area around 1.2215-20 provided mild support early yesterday,and had now become support. The significant technical indicator here is the 50 SMA (yellow), as the 20 SMA has given up. Because forex traders monitor them, these moving averages work well.
Another bullish indicator here is the previous hourly candlestick, which formed a doji (a reversing signal,) and the reverse higher is already happening. We recently opened a buy forex signal, and it is approximately 10 pips in profit for now. Hold on to this trade, it looks like a good one.