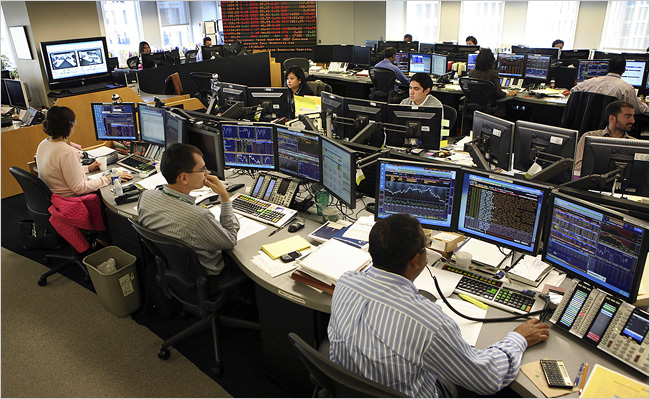 Forex Signals US Session Brief March 21 – Traders Taking Sides Before the FED
The US Dollar has been enjoying some nice bids last week. But the FED meeting is approaching and forex traders are trying to pick sides. On Monday, the Buck lost some ground while yesterday it reversed lower. Today it seems like it wants to get back on its feet. We had a couple of forex signals which closed in profit this morning, so we are getting back on our feet too after yesterday.
Forex traders are stuck at their screens all day today
Uncertainty Prevails Ahead of the FOMC
The FOMC meeting is due this afternoon and forex traders are trying to open and close trades. Those who have open positions in USD pairs are closing them and cashing the pips, while other forex traders are trying to open positions before the fundamental event this evening. That's how forex works; there are many traders with small and big accounts and different opinions.
Some of them were long on USD, some of them were short, some traders want to get in on the long side, others try to get in on the short side. EUR/USD rallied on Monday, while yesterday it gave back all of its gains and ended the day at the lows. Today it has made a retracement higher. We saw this as an opportunity to open a sell forex signal which we will explain below in the trades section.
USD/JPY jumped off the support level at 105.50 once again, so it looks like this level is not going to let go. But, we're not far from it though. Perhaps the rate hike this evening and the FED statement will give this forex pair another boost and send it higher. Today though, the pressure has been on the downside, so the shift from the downtrend to an uptrend will take some time.
We opened a short term buy signal a while ago on USD/JPY at current levels. The sellers managed to make a spike lower in the last hour, but the buyers brought the price back up, so it seems as the pressure is on the top side on this pair.
Commodity currencies have been beaten up pretty badly recently. AUD/USD and NZD/USD have lost more than 200 pips in the last week or so, while USD/CAD has gained more than 300 pips during this time. So, we have a bearish bias for commodity currencies and will try to sell pullbacks today.
Cryptocurrencies Extending the Bullish Run
Cryptocurrencies have been trading on a bearish trend for about a month. They formed dojis and pins on Sunday on the daily chart, but I was reluctant to see this as a shift in the trend. As I have pointed out a few times recently, cryptos haven't been exactly respecting the technical indicators recently, especially the ones that point to a bullish reversal.
So, it ok the pins and dojis on Sunday with some reserves. But, cryptos have been climbing higher in the last three days, so I guess the bullish indicators are being observed.
As you can see from the Litecoin chart below, the doji formed right at the 100 SMA (red). This moving average has been providing support for a long time and it seems like it's not letting the sellers have their way this time either.
The stochastic indicator was severely oversold, so the reverse made sense. The reverse is happening but we don't know if this is a real reverse of just a retrace for cryptocurrencies. The stochastic is getting close to the top of the window, which means that it will be overbought soon. By that time, we would have reached the 50 SMA (yellow). If the price moves above it and the uptrend continues, then the trend has shifted.
If the buyers start having trouble at the 50 SMA, then that might be the signal to go short, which means that this is just a retrace of the downtrend. We are long ion Bitcoin so we hope the uptrend resumes.
 The bullish reversal is taking shape
Trades in Sight
Bearish EUR/USD
The big trend is turning bearish
Yesterday the picture became even more bearish
The retrace up seems complete
This pair is turning bearish now
We opened a sell forex signal in EUR/USD earlier today. This pair has entered a bearish phase since it is not making any new highs. Yesterday the picture turned more bearish as EUR/USD gave back all of Monday's gains and closed the day at the lows. Now, today's retrace higher seems to be over, so we decided to go short.
In Conclusion
Trading isn't going to be straightforward today. The FED meeting and interest rate decision is coming at 18:00 GMT, so forex traders are trying to get their act together before the big event. So, we are trying to nurse our open positions as well on EUR/USD and USD/JPY.