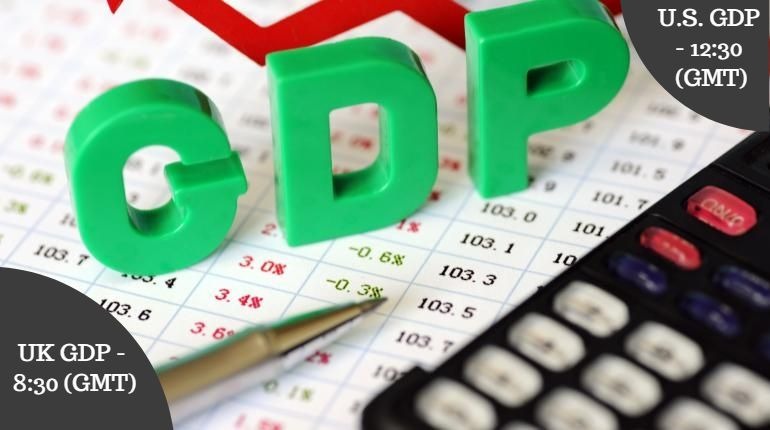 April 27 – Economic Events Outlook – GDP Figures In Focus
Posted Friday, April 27, 2018 by
Arslan Butt
• 2 min read
Good morning, traders. We made it through another exciting week with some great trading signals. So far the market has been fully fundamentals driven, causing some unexpected fluctuations. The ECB (European Central Bank) left the minimum bid rate unchanged at 0.00%, causing weakness in the Euro. The same behavior is expected from the BOJ today, but the GDP figures from the US and UK may drive some action in the market. Let's take a look…
Watchlist – Key Economic Events Today
Japanese Yen – JPY
BOJ Monetary Policy – As expected, the Bank of Japan left short-term interest rates at minus 0.1 % and the 10-year bond yield around 0%. The decision was made by an 8-1 vote, with board member Goushi Kataoka the only dissenter.
Moreover, the projected inflation is likely to hit its target during the next fiscal year. This indicates that its next move could be to dial back its huge stimulus which is coming a bit later than peer economies.
Great Britain Pound – GBP
Prelim GDP q/q – The Office for National Statistics is forecasted to release the GDP figure at 8:30 (GMT). The GDP (gross domestic product) is expected to drop to 0.3% vs. a rise to 0.4% in the previous quarter. The Sterling is likely to trade under bearish pressure on the sentiment that the BOE will be forced to keep rates on hold until economic events get better.
US Dollar – USD
Advance GDP q/q – Similarly, the Bureau of Economic Analysis is due to release the US GDP data at 12:30 (GMT). The advanced GDP is expected to drop to +2.0% vs. Q4's final estimate of +2.9%. If the actual figure really fell by 0.9%, the dollar will be in trouble.  
Summing Up – Today's market could stay extremely volatile as the economic calendar is loaded with top-tier events. So, brace yourself for volatility and try not to take shots before the news releases. Have an awesome weekend.