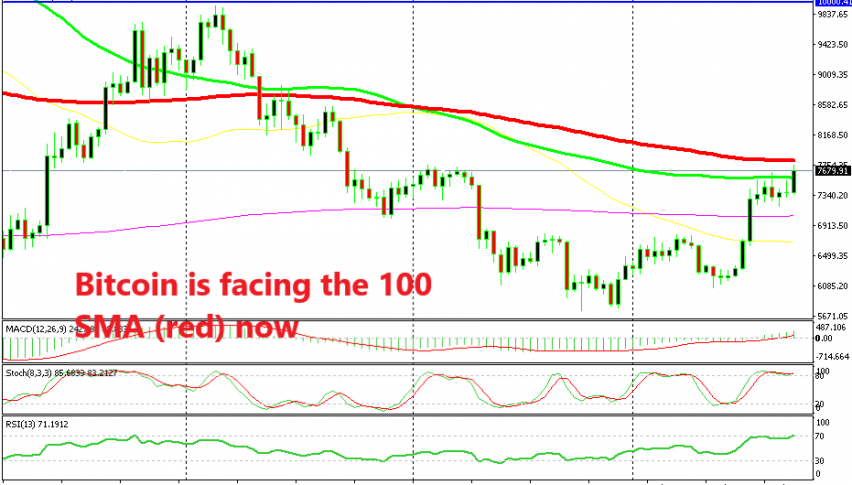 Bitcoin Makes the Next Bullish Move, but One Last Obstacle Remains on Top
This month, cryptocurrencies have turned bullish with Bitcoin leading the way. Cryptocurrencies have been on a strong downtrend for many months but the news that the giant hedge fund BlackRock will start investing in Bitcoin has turned the sentiment around.
Bitcoin made the first move obviously, and the rest of major altcoins followed suit. As we know, the trends unfold in waves as in Elliott Wave Pattern which includes five waves, three bigger bullish moves and two smaller dovish moves.
The first two bullish moves happened at the end of last month and the beginning of this month, and the other took place early last week. The first bearish retracing wave took place in the second week of this month, while the next one took place last week. The second wave last week was more of a consolidation than a proper pullback. But, that's how these retracing waves look sometimes. Sometimes the sellers are just not strong enough to form a proper pullback wave, so we have to accept the consolidation.
Today, Bitcoin is out of the consolidation range and is making its move upwards. This looks like the beginning of the third bullish wave which would be the fifth wave to complete the Elliott Wave Pattern.
The reason why I think this is the beginning of the third bullish wave is that the 100 SMA (green) has been broken now. It provided resistance all of last week and now the price has moved above it. Although, the current daily candlestick must close above this moving average so we can consider it a proper break.
But, there is still another moving average looming above our heads. The 100 smooth MA (red) stands at $7.800. If the Elliott Wave pattern is to work out, then this moving average should be broken. Today's price action points to more gains for Bitcoin, so perhaps we will see this altcoin break the 100 SMA in the coming days, if not today.