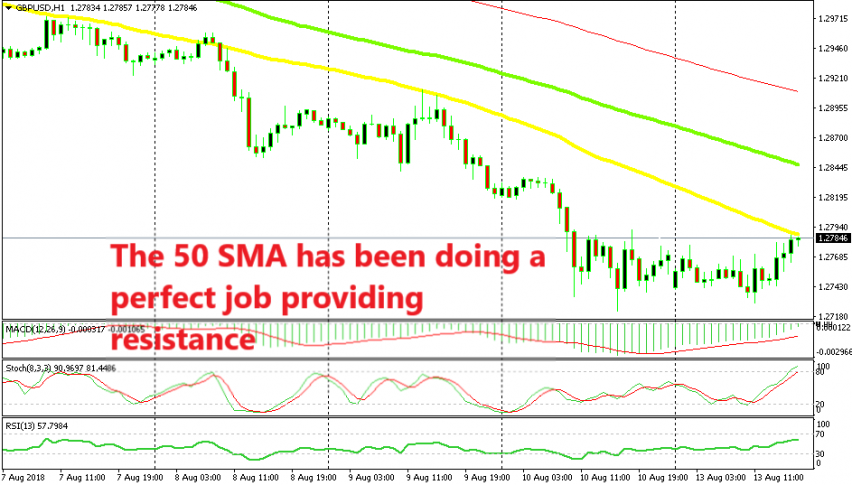 Trying Our Luck on GBP/USD Again
GBP/USD has entered the next phase of the downtrend after breaking the support at 1.30. The situation regarding Brexit doesn't look promising as both sides, the UK and the EU, are kicking the can down the road, throwing the ball at each other. That points to a no-deal Brexit, which of course is negative for the GBP.
In the last 7-8 trading days, GBP/USD has been following a steep and straightforward downtrend. As you can see from the chart above, retraces on this pair have been pretty weak. They have ended right at the 50 SMA (yellow) which has been pushing the price down and defining the trend.
The stochastic indicator has been overbought on the H1 chart timeframe which has signaled bearish reversals and the price has respected it. We haven't caught all the bearish moves during this downtrend, but the ones that we have traded, have ended up in profit.
Now we are in the same situation. The price has reached the 50 SMA again and it seems like this moving average is providing resistance. The stochastic indicator is again overbought now so we decided to have another go at this pair. We sold GBP/USD hoping that it will reverse back down.
The risk sentiment has improved in the financial markets a little during the last few hours. USD/JPY has climbed around 80 pips as safe havens weaken while risk currencies have strengthened. But, it looks like the climb might be over now. After all, nothing has changed or improved, so the bearish move will likely come soon.