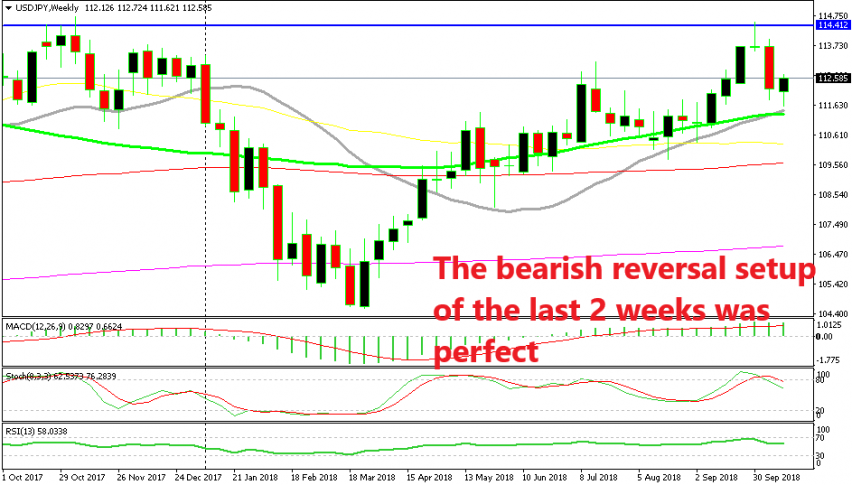 Was this it for the Downside in USD/JPY?
USD/JPY made a bearish reversal at the beginning of this month. It failed to break above the major resistance area at 114.50s once again and the sellers started piling in with the idea that this was it for the upside. And they were right.
The sentiment turned negative in financial markets as we approached the last official EU summit for the year and the Italian budget and Brexit issues weren't getting close to a solution. So, the sentiment deteriorated and the cash started flowing towards safe haven assets such as Gold and the JPY.
As you can see from the weekly chart above, the price formed an upside-down candlestick two weeks ago which is a reversing signal. Then a big bearish candlestick followed last week. This week, the sellers started pushing lower again on Monday, but they stopped short at 111.60s, just above the 20 SMA (grey) and the 100 SMA (green). Now the price has reversed back up and USD/JPY is around 100 pips higher.
A false breakout before the reversal
If we switch to the daily chart, we see that the price formed a couple of doji candlesticks at the end of last week right above the 50 SMA (yellow). It looked like USD/JPY was going to reverse up since the 50 SMA was providing support and the two dojis were pointing to a bullish reversal as well. Besides, the stochastic indicator was oversold, so the move down was complete.
But, forex is not that easy. Some things you have to see in advance. I was thinking about going long back then, but there was a chance that we could see a false breakout before the reversal, just to flush out a few weak stops below the 50 SMA.
That is what happened. On Monday, the sellers pushed further below the 50 SMA around 20-30 pips lower and then the revere came. Now, the buyers are in control but the downside is not over yet I think. None of the two big issues will find an answer in this week's EU summit, so it is likely that next week the sentiment turns negative again in financial markets, which would reverse USD/JPY lower.
So, if you have a buy trade today, make sure to close it before the week is over, just in case the forex market opens with some large gaps next week.