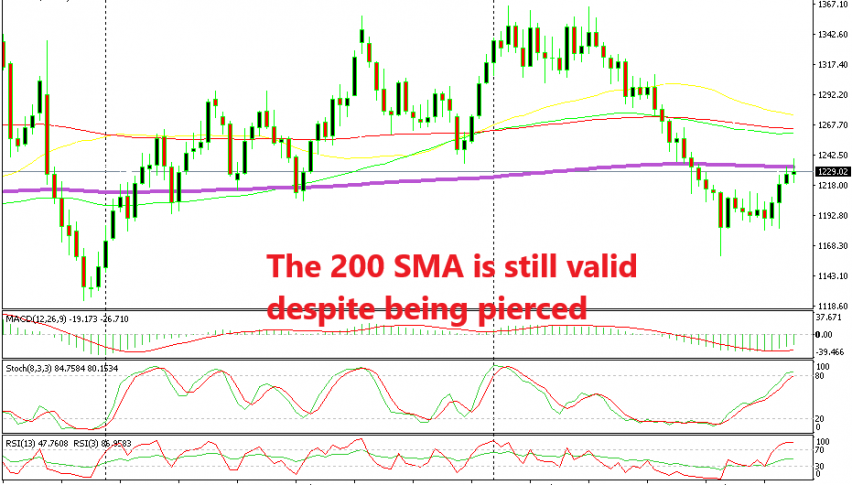 Gold Has Found A New Indicator for Support
---
Gold has made a bullish reversal in the last several weeks after trading on a major bearish trend for many months. But, the sentiment has turned really negative in financial markets recently and since Gold is a safe haven asset, it has benefited from the uncertainty and made a decent bullish move.
Although, if you check the weekly chart, you can see that this move looks more of a retrace of the man downtrend, rather than a bullish reversal. Now, Gold has reached the 200 SMA (purple) on the weekly chart and the stochastic is overbought as you can see above, but it will need some time for the bearish trend to resume. Of course, the sentiment must also shift.
The 50 SMA is defining the downside now
But for the bearish trend to resume technically, Gold must first take out the 50 SMA (yellow) on the H4 chart. Gold found support at this moving average on Monday as the 50 SMA caught up with the price.
It jumped off the 50 SMA after a session and made new highs at the beginning of the week. The price slipped back to the 50 SMA yesterday, but it resisted once again and buyers tried the top for the second time.
But, it seems like they failed to make new highs today. Now Gold is stuck between the 50 SMA on the h4 chart at the bottom and the 200 SMA on the weekly chart at the top. In my opinion, the next major move will go at the direction of the moving average that gets broken first. Until then, let's watch the price action.
Yesterday the CPI numbers from European countries showed a slowdown, so today's headline Eurozone inflation numbers should be soft as well
1 day ago