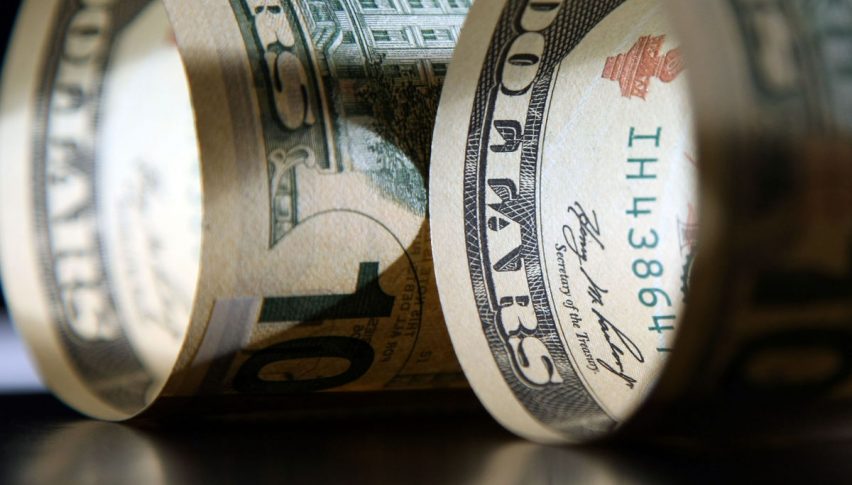 US Session Forex Brief, Dec 4 – The Demand Dries Up for the USD
The US Dollar has been in demand during this year, but today, it seems that demand for the USD has dried up completely. That is strange after FED's Chairman Jerome Powell delivered some hawkish comments last night on a speech in the FED's website. He didn't mention the monetary policy and rate hikes, but the comments on the economy were pretty hawkish. He confirmed that wages are starting to pick up as we have also seen in recent months, while the unemployment is at multi-decade lows.
That is not helping the Buck though as it keeps sliding lower. This looks like a run for safe havens at first glance because USD/JPY has lost nearly 100 pips during the European session while GOLD has climbed nearly $10. But, the risk currencies are up as well today. So, it is just some USD weakness in the financial markets which seems to come from the decline in US Treasury yields.
GBP/USD got a boost from some rumors that the ECJ might give the UK the right to invoke Article 50 without the consent of the other EU member countries. But I don't think that will come to use, but it is a possible last chance escape nonetheless.
The European Session
European Commission Still Waiting For More Details From Italy – European Affairs Minister Moscovici commented this morning that the EU is still waiting for more details regarding next year's budget from Italy to evaluate concrete and credible steps. He added that dialogue is intense and Italy is trying to solve the problem. I suppose they are just waiting for Italy to lower the deficit again to 2.0% or even lower.
UK Might Get the Option to Revoke Article 50 Unilaterally – There were rumors this morning from a European Court of Justice (ECJ) aide that the ECJ might rule to give the UK the right to go back in the EU without the consent of the other member countries. This seems like an attempt to persuade Britain to remain as a last possibility, but it seems unlikely now.
Switzerland Inflation Declines – The consumer price index CPI inflation was expected  to decline by 0.1% in November but it declined by 0.3% instead. Yearly CPI ticked lower to 0.9% from  1.0% previously, while core inflation fell to 0.2% from 0.4%.
UK Construction PMI Reverses the Trend – UK construction PMI report has shown that this sector has been in a slowing trend this year, but in September, this indicator moved higher and today it did the same again, coming at 53.4 points against 52.5 points expected and up from 53.2 points previously.
OPEC Working on Cutting Output by 1.3 Million BPD – According to Reuters which cited some unnamed sources, OPEC is trying to cut production by 1.3 million barrels per day. But, Russia's position is the main obstacle and it might delay the decision from OPEC.
Eurozone October PPI – Eurozone producer price index PPI inflation was expected to increase by 0.5% in October but increased by 0.8%. Last month was revised higher as well to 0.6% from 0.5% previously. Let's hope it translates into higher consumer price index CPI in the coming months.
Salvini Playing his Part Still – Italian deputy Prime Minister Matteo Salvini commented a while ago that the 2% deficit target is just a number. I suppose he doesn't mean it in a good way, meaning that it might get higher even if the government accepts it.
BOE'S Carney Expects Dramatic GBP Moves on Disorderly Brexit – He said that the price of the GBP hasn't factored in a disorderly Brexit. There has been volatility but now dramatic moves. I suppose he expects dramatic moves if the British Parliament doesn't pass May's Brexit deal next week.
Saudis Poor Cold Water on  Oil Bulls – The Oil Minister of Saudi Arabia said today that it is premature to say if OPEC will cut production. It's still uncertain what size of supply cut the world needs and OPEC+ need to figure out what to do. So, no production cuts just yet.
Italy's Tria Tries to Satisfy the EU – Italy's Finance Minister Giovanni Tria commented that Italy needs to avoid EU procedures on the budget. The government is examining different options to revise the budget.
Brexit Is the Way for UK Government – UK PM spokesperson James Slack appeared after the rumors that the ECJ might leave the door open for UK to revoke Article 50. He said that the position of the government on Brexit is not to revoke Article 50. The UK government hasn't discussed plan B in case the Brexit deal doesn't pass the Parliament vote next week.
The US Session
Canadian Labor Productivity QoQ – Canadian labor productivity for Q3 is expected at 0.4%, down from 0.7% previously. But, it is a good thing for the currency in short term when productivity declines because it means that businesses will need to hire more people to do the same amount of work, which would lower unemployment.
GDT Price Index – The global dairy trade auction will take place today in New Zealand. There are no expectations since it is an auction. But in the last 12 auctions, the price has declined every time apart from once back in August. This will have some impact on the NZD by the way.
FED's Williams Speaks – FED's New York President John Williams is due to hold a press conference about local employment and labor force trends at the Federal Reserve Bank of New York. Audience questions are expected, so that will be interesting, especially after Powell's bullish comments yesterday.
IBD/TIPP Economic Optimism – This indicator has been holding steady at 56-57 points, which shows that economic optimism is in the same levels as the other sectors of the US economy. Last month it was at 56.4 points, while today it is expected to increase to 57.3 points.
Trades in Sight
Bullish EUR/GBP
The trend is bullish
The retrace lower is complete
The 100 SMA provided solid support
We decided to buy as this pair was finding strong support at the 100 SMA
A while ago, we decided to go long on EUR/GBP as this pair was retracing lower. The trend has been bullish for this pair for about a month, but the GBP jumped on the ECJ rumors to give Britain a free pass to become overlook Article 50 unilaterally if they want to in the near future. So, EUR/GBP retraced lower and the retrace was complete a couple of hours ago as stochastic became oversold. Besides that, the 100 SMA (green) was providing support as well, so the chart setup was perfect for a buy trade.
In Conclusion
The GBP surged more than 100 pips higher this morning on ECJ rumors and the positive construction report also helped it. But the climb is over now and the GBP is reversing back down as the market realizes that nothing really changes since the UK government will go ahead with Brexit as PM spokesperson said a while ago. By the way, the decline in the USD seems to have stalled now which means that we might see a reversal soon.