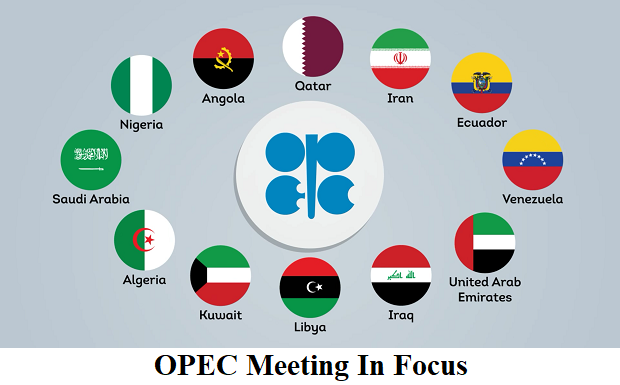 Economic Events Outlook, Dec 6 – Top 5 Things to Watch Today
Posted Thursday, December 6, 2018 by
Arslan Butt
• 2 min read
As we approach the weekend, the market is getting more and more volatile over geopolitical problems, especially the trade war and Brexit. In this update, we are going to discuss the top 5 economic events that are worth watching today and, based on that, you will be able to determine most of the market trends. So buckle up, as trading the market is gonna be a roller coaster ride today.
Top 5 Economic Events to Watch Today
1) OPEC Meetings
Newbies, the OPEC nations represent around 40% of the world's oil supply and are unified in their oil production levels. With so much control over oil's supply-side, shifts in their production levels can have a significant impact on oil prices. They meet twice a year to discuss a range of issues regarding energy markets and, most importantly, agree on how much oil they will produce.
The trade war and slowing global economy are diminishing the oil demand, while the production isn't affected. The oversupply of oil is causing a drop in its prices. OPEC members are likely to discuss whether to cut output or not. We will share further updates about the meeting, all you need is to stay tuned to FX Leaders.
2) USD – ADP Non-Farm Employment Change
The Automatic Data Processing, Inc. will be releasing the ADP Non-Farm Employment Change at 13:15 (GMT). It's expected to drop to 195K vs. 227K in the previous month.
Let us recall, the ADP figure is correlated with the Non-farm payroll which is why it's often called advance NFP. Today's negative forecast is likely to pressure Greenback until the release of the news. Whereas, the actual ADP will give us clues about labor market figures due on this Friday.
3) CAD – Trade Balance
As you know, the Bank of Canada has decided to keep its benchmark interest rate unchanged at 1.75% while it digests the impact of its previous policy decisions and the effect of drastically lower oil prices on the economy.
Speaking of bearish oil prices, the Canadian economy heavily depends upon the crude oil exports. This means a drop in oil prices will also cause a drop in the value of its exports.
Before making my point, please understand that the trade balance is a difference in value between imported and exported goods during the reported month. I'm not saying there's a drop in Canadain oil exports but the drop in oil prices can become a reason for a wider trade deficit. Anyway, economists are expecting -0.7B figures vs. -0.4B previously.
At 13:35 (GMT), the Bank of Canada Governor Stephen Poloz is scheduled to speak about the economic outlook, risks in Canada's financial system, and the December interest rate decision at the Chartered Financial Analyst Society Breakfast Seminar, in Toronto. The house will be open for question and answer sessions, so an unexpected answer to an unexpected question can drive sudden volatility in the market. So better be ready…
5) USD – ISM Non-Manufacturing PMI
The Institute for Supply Management is due to release services PMI figures at 15:00 (GMT) with a forecast of 59.1 vs. 60.3. It's a survey of about 400 purchasing managers which asks respondents to rate the relative level of business conditions including employment, production, new orders, prices, supplier deliveries, and inventories. The negative forecast may keep the US dollar in check.
That's all on the fundamentals side, good luck for today and stay tuned to FX Leaders for the technical trading setups. All the best!