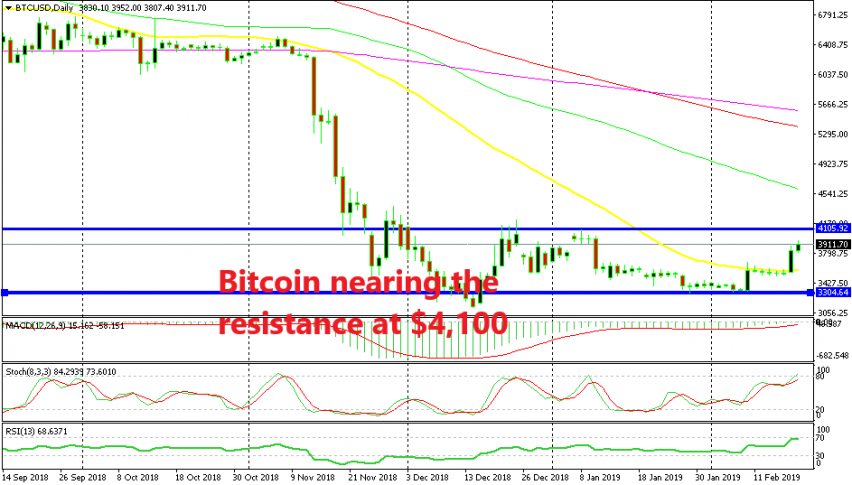 Bitcoin Heads Towards Resistance As Cryptocurrencies Continue the Reversal
The headline says that cryptocurrencies are on a reversal, but mind you, it's a reversal on the short term charts because the longer time-frame charts still point down. But, we can consider this as a reversal for the sake of the analysis, at least until BITCOIN reaches the resistance area around the $4,100 level.
Cryptos made a bullish reversal on Friday two weeks ago, as Bitcoin jumped off the support area at $3,300. Although, it found resistance at the 50 SMA (yellow) on the daily chart that day and it traded below that moving average for the next week until the break yesterday.
Yesterday, we heard some rumours that Ethereum will launch a hard fork on March 1 and they will also apply to get listed on the futures exchange. That gave the crypto market a lift as a whole, as news from one altocin usually affects other major digital currencies as they correlate positively.
Now Bitcoin is heading towards the resistance area which stretches from around $4,000 to $4,200. Bitcoin is overbought on the daily chart so there is a big chance that we see another bearish reversal from this area since it means that the bullish retrace is complete. If you are staying on the sidelines looking for a trade here, then this area around the $4,100 level is a good place to do so since it is a resistance zone. We are already short at the 50 SMA and have placed a stop above the resistance zone.