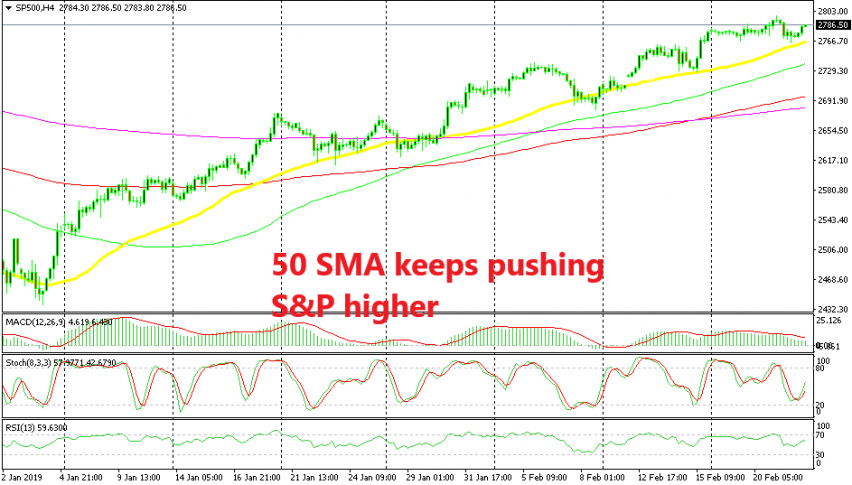 S&P Leading the Uptrend in Stocks
Stock markets continue to trade higher as they stretch the bullish reversal for the year after the massive decline at the end of last year. The uptrend has slowed in the last week or so, but today we are seeing new gains and the indices are making new highs for the new year.
The S&P500 has been leading the reversal in stocks which makes sense since the US economy has been putting up a pretty great performance compared to the rest of the developed economies, despite the interest rate hikes from the FED. As a result, S&P has recuperated most of the losses from the year-end decline in 2018 and it is now above the opening levels of last year.
During the uptrend this year, S&P has been finding support at the 50 SMA (yellow) on the H4 chart. This moving average has provided support on retraces lower as all trends need to refresh lower before making new highs. The 50 SMA has been pierced several times, but the price has returned above it and the uptrend has continued.
Yesterday, we saw another pullback lower, but the price reversed just above this moving average after it formed a hammer candlestick, which signaled the bullish reversal. The European stocks continue to lag but that's understandable if we consider the situation with Brexit, the economic weakness, and the coming elections for the European Parliament.
So, if you are thinking of going long on indices, S&P is probably the best bet you can get. I missed the chance to go long yesterday, but will follow the price action to find another dip in the 50 SMA which is a great indicator to go long from.