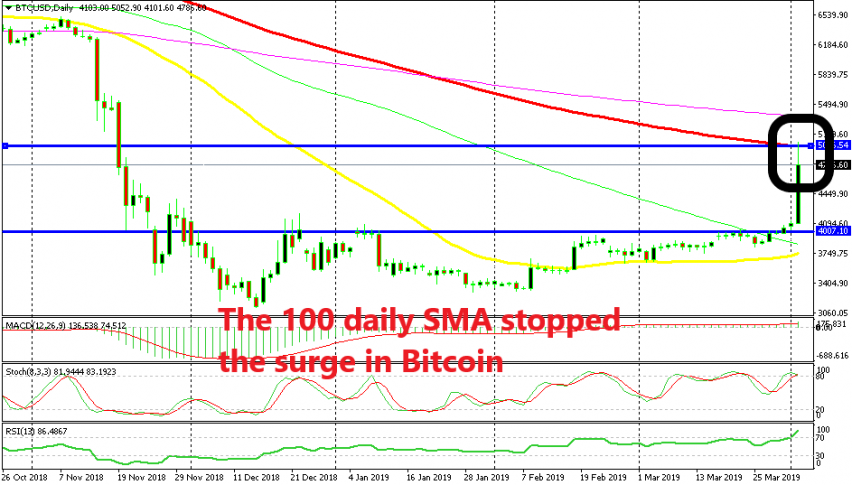 The Surge in Bitcoin Stalls at $5,000 Where the 100 Daily SMA Lies
Crytpocurrencies made a quick surge higher earlier this morning. As my colleague Arslan highlighted, there's no fundamental reason behind this move from what we can see, so it is mostly a technical move. Off the top of my head, I'm thinking that this came as the sentiment improved in the altcoin market in recent months.
The big bearish move that lasted throughout last year ended in December and crypto traders seem more relaxed now, so they are having an attempt on the upside. But, the overall picture remains unchanged for cryptocurrencies; they are as useful as they were a few months ago, so there's no real reason for them to appreciate too much in such a short time.
In fact, the surge for BITCOIN stalled at the 100 SMA (red) on the daily chart. That moving average comes at $5,000 exactly which is also a big round number – an important technical level. The high on my platform comes at $5,050, which means that the $5,000 level has held the first attempt.
The price has retraced $300 lower, but it is still crawling higher. To me, this looks like a good opportunity to go short on cryptos. We were short on Bitcoin since a couple of months ago but that trade got smoked today during this move. But now, this surge is presenting us with another opportunity to open another long term sell signal in Bitcoin. I will follow the price action closely now, hoping to get a good entry point, as close to the $5,000 level as possible.