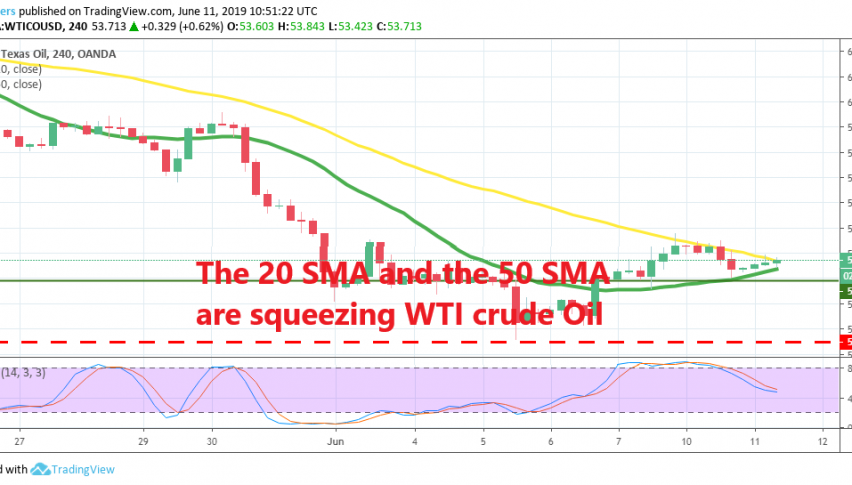 WTI Crude Oil Gets Squeezed Between 2 MAs as Uncertainty Prevails  
Crude Oil was trading on a bullish trend since the beginning of this year after OPEC+ decided to curb the output. But the trend started reversing towards the end of April as the global trade war escalated again and the sentiment in financial markets turned negative. Besides that, the global economy started to weaken again after bouncing for a small period at the start of this year.
Both the worsening sentiment and the slowdown in the global economy affect risk assets such as Crude Oil negatively, hence the reversal in WTI crude at $66.50s. The price formed a couple of supports on the way down, first at $60 and then at $57 where it stalled for some time, but the sellers kept pushing lower and eventually they broke those levels.
Although, a new support has formed in WTI Oil above the $50 level. The price bounced off that support area and climbed around $4 higher, but it ran into the 50 SMA (yellow) on the H4 chart where it found solid resistance yesterday. This moving average pushed the price back down but the 20 SMA (green) turned into support and it has been holding well in the last two sessions.
Now WTI crude seems stuck between these 2 MAs as the 50 SMA keeps pushing lower and the 20 SMA is pushing higher. The range is getting tighter, so we we are likely to see an explosion in either direction. At the moment, the uncertainty surrounding Crude Oil is still quite elevated since OPEC+ wants to extend the production cut, which is a positive thing for Oil. But on the other hand, the global economy is slowing down and the trade war is still escalating, which go the other direction for Oil prices. So, the break out of this squeezing range can be in either direction, thus we will wait and see what will affect the Oil market more, OPEC or the trade war.