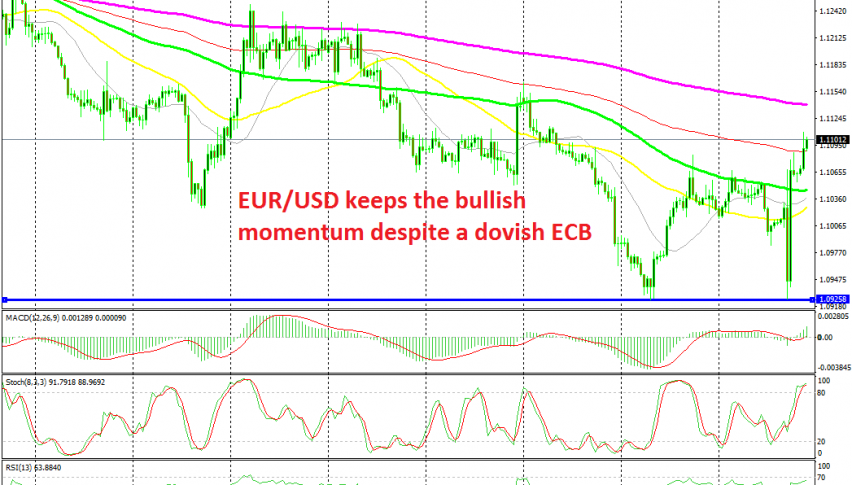 ECB's Vasle Threatens With Increased intervention, but the Euro Keeps the Bullish Momentum
Yesterday, the European Central Bank (ECB) delivered a rate cut, bringing deposit rates to -0.50% from -0.40% previously. They also announced reintroduction of the QE programme, buying 20 billion Euros a month worth of bonds. EUR/USD fell below 1.10, but it found support at the previous low at 1.0920s and turned bullish from there.
Since then, this pair has climbed nearly 200 pips; perhaps traders were expecting something stronger from the ECB, such as further rate cuts scheduled on the ECB calendar or a bigger QE programme. So, they turned bullish on the Euro after the initial knee-jerk reaction and after the previous support held.
Although, the ECB is not done yet. ECB governing council member Bostjan Vasle was speaking a while ago and he made some dovish comments or the Euro. here are some of his comments:
We could increase volumes and change conditions for bond purchases
Ready to step up use of monetary policy tools, could introduce new ones if necessary
New actions are aimed to allow interest rates to be determined in relation to inflation
Not just looking to influence short-term rates but longer-term rates as well
We expect low growth of economic activity to continue in the coming months
So, interest rates should be determined by inflation, he says. This might mean that we might see further cuts to interest rates, since inflation is still weakening in the Eurozone. He also says that the ECB could step up volumes, which might mean that they might increase bond purchases above 20 billion Euros for the QE programme. These comments should send the Euro down, but it is following yesterday's momentum, and it's still crawling higher.