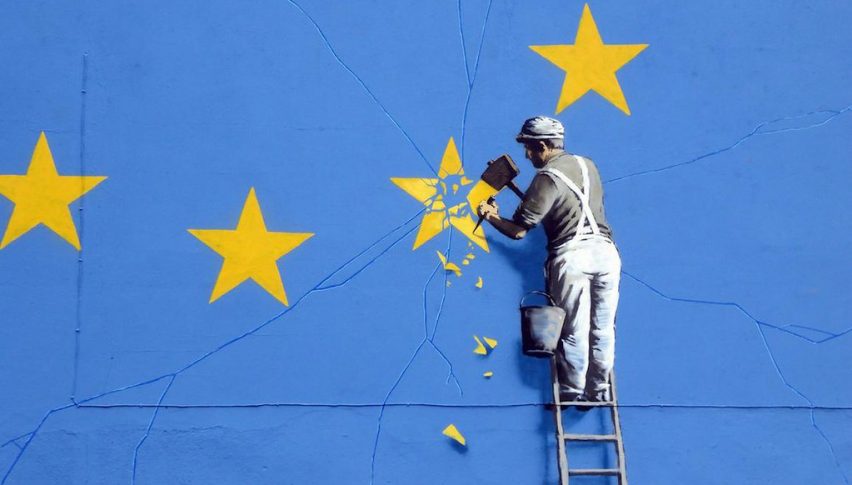 Forex Signals US Session Brief, Oct 8 – Risk Off Again, While GBP Tumbles on NI Comments
The GBP has been trading up and down in the last few months. When we hear positive comments on Brexit, the GBP rallies higher. When comments are negative such as today, GBP/USD tumbles lower. Today we heard comments from the European Union that they want Northern Ireland (NI) to stay in the Customs Union, which would basically leave it within the EU. The UK would never opt for that and Prime Minister Boris Johnson said that this position of the EU leaves no room for a Brexit deal, not just now, but ever. This means that even if Brexit gets postponed once again, since the British Parliament made it illegal to leave the EU without a deal, we won't get a deal in several months' time.
The NI DUP Party also commented, saying that they want to have the cake and eat it too. The DUP leader Dodd also added that Ireland appears to be turning peace process on its head, so things are heating up again and the GBP is tumbling lower.
On another note, the USD has weakened again today in the last two sessions, as it declined against most major currencies, apart from safe havens. This suggest that the market sentiment has turned negative today after some positive tones in the US session yesterday. Safe havens such as the JPY and Gold have been climbing higher, while risk assets are sliding lower. US Crude Oil is around $2 down from the highs yesterday, so the downtrend continues. That has pulled the CAD lower with it. Stock markets have turned bearish again after the pullback we saw yesterday, so the risk button is switched off again.
The European Session
Switzerland Unemployment Rate – The unemployment rate in Switzerland declined from 2.4% to 2.3% in June and it has remained at that level since then. But, that was expected to change today and the unemployment rate was expected to lose two points to 2.1%. Although, the Switzerland unemployment rate came out worse than expected at 2.3%, while economists were expecting a 2.1% rate.

According to surveys by the State Secretariat for Economic Affairs (SECO), at the end of September 2019, 99,098 unemployed people were enrolled in the Regional Employment Centers (RAV), 454 less than in the previous month. The unemployment rate remained at 2.1% in the month under review.

German Industrial Production – Industrial production has been mostly negative in Germany for more than a year. In three out of the last four months, industrial production has declined and it was expected to decline again in September. August's number was revised higher from -0.6% to -0.4%. Today's report was expected to show a 0.2% decline for last month, but industrial production increased by 0.3% instead, so let's hope production keeps increasing.
NI DUP's Dod Blames Ireland – Deputy DUP leader Dodd was on the wires this morning via Ransquawk, saying that Ireland wants to have its cake and eat it too. Ireland appears to be turning peace process on its head. Northern Irish DUP leader Dodd said that it looks difficult to get a deal by the deadline.
The Deal Doesn't Look Likely for UK PM Cabinet – A while ago we heard on Reuters that the UK Government is skeptical that the EU is engaging seriously or negotiating seriously. The BBC Political editor also commented on Reuters, saying that Johnson spoke to Merkel this morning and No. 10 source said that there could only be a deal if NI stays in customs union, if not, then deal is 'overwhelmingly unlikely'. PM Brexit talks close to breaking down, No 10 describes EU position that a deal is 'essentially impossible not just now, but ever.
China Dials Down Hopes for A Deal Ahead of US-China Trade Talks – The Chinese delegation will be headed for the US soon but signs are not good. The Chinese delegation is already planning to cut short its stay in Washington. Chinese negotiator Liu He will not carry the title of 'special envoy' for President Xi Jinping, which the South China Morning Post says it is an early indication that the vice premier has not been given any particular instructions from China's leader.
The US Session
FED's Rosengren Trying Not to Sound too Dovish – FED member Rosengren commented a while ago that the data has been a little weaker than he had anticipated. Still a tight labour market and there is nothing to indicate the consumer fundamentals have change.
US PPI Inflation – US headline PPI inflation was expected to remain at 0.1% for September, but it declined by 0.3% instead. Core PPI was expected to slow down to 0.2%, from 0.3% in August, but it came at -0.3% as well. Core PPI was expected to slow down to 0.2%, from 0.3% in August, but it came at -0.3% as well. US September PPI YoY also slowed to 1.4% against 1.8% expected and prior. US September PPI YoY also slowed to 1.4% against 1.8% expected and prior. Core PPI YoY which excludes food and energy moved lower too, to 2.0% from +2.3% expected and previous. These are some major misses in both the September and annualized figures, which might have some impact on next month's CPI inflation.
Ireland Trying to Play Its Hand – The Irish foreign minister said just now that Ireland remains open to a fair Brexit deal. But, they need the UK government to be willing to work with the EU to get it done. Everyone is trying to pass the ball to the other side forever.
Trades in Sight
Bearish GBP/USD
The trend has turned bearish
Fundamentals have turned bearish for the GBP
MAs are pushing the price lower
The 20 and 50 SMAs have turned into resistance today on the 5 min chart
GBP/USD has turned bearish again now as fundamentals turn dovish too. The odds of a Brexit deal have diminished again today after comments that EU and Ireland possibly want Northern Ireland to remain in the Customs Union. The downtrend has picked up pace for this pair, which can be observed from the 5 minute chart above. The smaller moving averages such as the 20 SM A(grey) and the 50 SMA (yellow) are providing resistance and pushing the price down, which means that the trend is strong.
In Conclusion
Delegations from US and China will meet soon to negotiate a trade deal. But, the US has increased the list of Chinese companies to be banned or under sanctions, as a response to the treatment of Uighur Muslims. The Chinese don't seem too optimistic either, as explained above, so the events leading up to that meeting don't seem too promising.