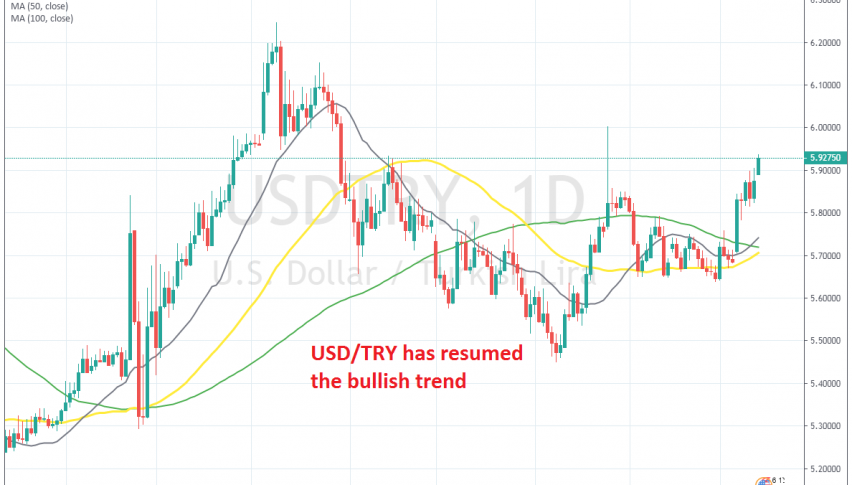 Turkish Lira Resumes the Decline After Trump's Tweet About Sanctions on Turkey
The Turkish Lira went through a tough period earlier this year. As a result, USD/TRY surged from around 5 in March to 6.25 in May. No one knew the exact reason for this, but the Turkish President Erdogan blamed some dark forces behind that move.
Anyhow, the decline ended and this pair retreated lower. But in August the uptrend resumed. In September USD/TRY traded sideways, but this month it has turned bullish again. Donald trump has just tweeted, suggesting that sanctions on Turkey are coming and the Lira made another bearish move. Below is the tweet:
Brian Kilmeade over at @foxandfriends got it all wrong. We are not going into another war between people who have been fighting with each other for 200 years. Europe had a chance to get their ISIS prisoners, but didn't want the cost. "Let the USA pay," they said.

Kurds may be releasing some to get us involved. Easily recaptured by Turkey or European Nations from where many came, but they should move quickly. Big sanctions on Turkey coming! Do people really think we should go to war with NATO Member Turkey? Never ending wars will end!
In the last 24 hours, we heard that a Kurdish woman politician and human rights activist was raped and killed by Turkish backed paramilitaries, which has led to a public outcry. If it is true, then it's a horrible thing, but with the mess in that area right now, no one knows what's true anymore.
The broad-based US dollar will end this week on a bearish track as market optimism tends to undermine the safe-haven US dollar.
4 weeks ago