EUR/USD 62% Fibonacci Support Holds
November has been a rough month for EUR/USD bulls. Rates are in the red by more than 125 pips, falling to just above the 1.1000 handle. At this point, it appears that Brexit uncertainty and an overtly dovish ECB have currency traders skeptical over future strength of the Euro. Given yesterday's above-average U.S. CPI reading and the FED's Powell stating that rates are "on hold," one has to question how long today's bullish bump in the EUR/USD will last.
Aside from Day 2 of Jerome Powell's Congressional testimony and a ho-hum U.S. PPI report, there wasn't a whole lot on this morning's economic calendar. However, the European session brought some fireworks, with both German and Eurozone GDP outperforming expectations on a year-over-year basis. The news sent the EUR/USD higher, bouncing from an important daily Fibonacci support level.
EUR/USD: Technical Outlook
In a Live Market Update from last Thursday, I outlined a long trading plan for the EUR/USD. Thus far, the buy has played relatively well, but has yet to break out to the topside of this market. If you missed the recommendation, feel free to check it out here.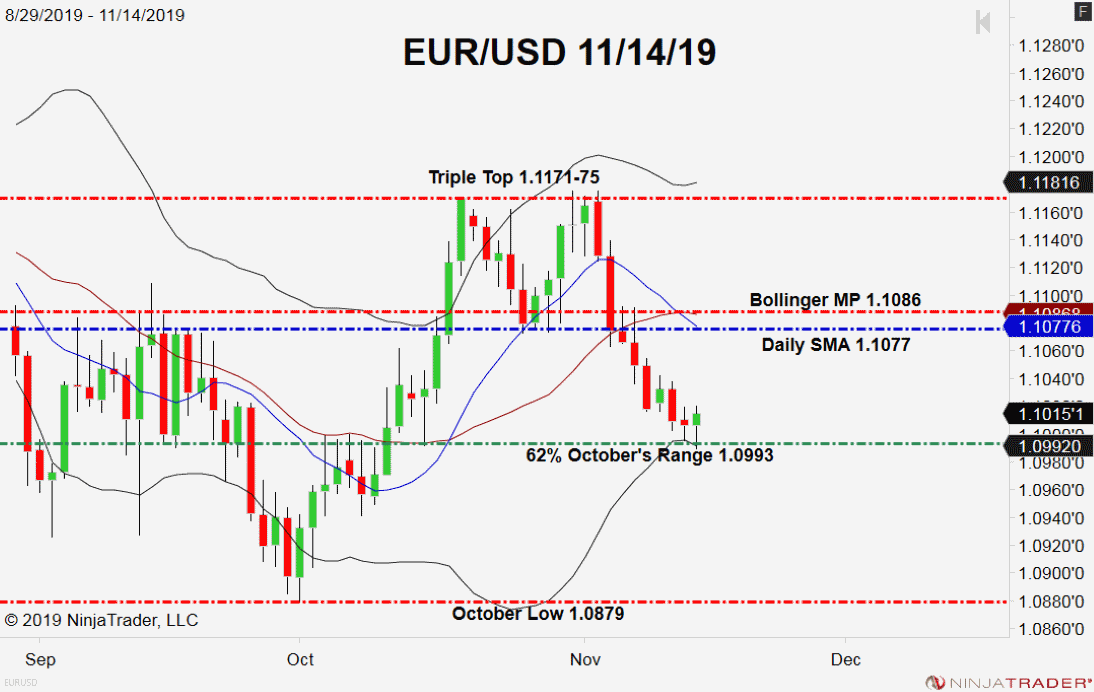 As we roll toward the weekly closing bell, there is one premier number on my radar:
Support(1): 62% Retracement Of October's Range, 1.0993
Overview: It is difficult to overstate the importance of the 1.1000 handle and the 62% Retracement at 1.0993 for the EUR/USD. This is a key technical area; if it gives way, a swift extension of the daily bearish trend will become likely.
If you are holding positions in the EUR/USD, be ready for tomorrow's U.S. Retail Sales (October) report. Consensus expectations are looking for the release to come in at 0.2%, up from -0.3% in September. If it does, the support area of 1.1000-1.0093 may be taken out to the downside, quickly become a thing of the past.