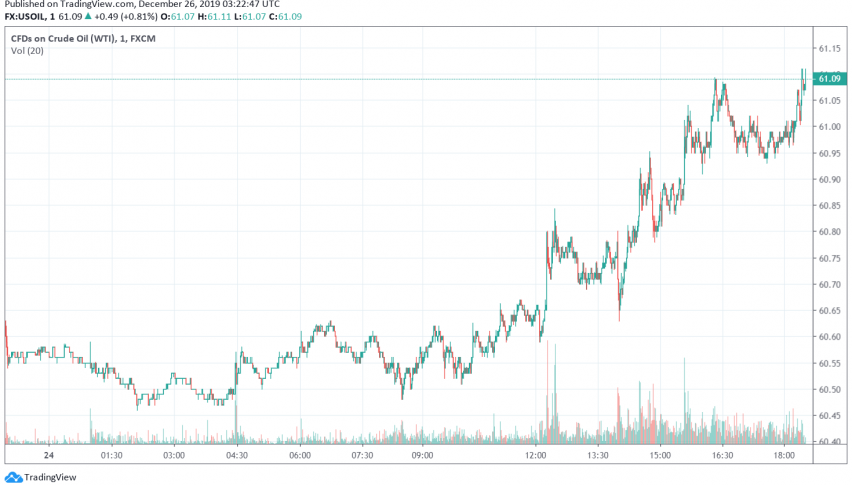 WTI Crude Oil Continues its Bullish Momentum Over Trade Deal and Supply Cuts
Posted Thursday, December 26, 2019 by
Arslan Butt
• 1 min read
WTI crude oil prices continue to trade bullish into Thursday, still buoyed by expectations of the phase one trade deal and the supply cuts by OPEC balancing demand for oil in global markets next year. At the time of writing, WTI crude oil is trading at around $61.09 per barrel.
While most traders are away for the holiday period, the lack of volatility has kept crude oil prices supported over sentiments of receding trade tensions which could potentially boost demand for oil in the world's two biggest energy consumers, the US and China. Crude oil turned bullish a few days ago when both countries announced that they had finalized the phase one trade deal and were expected to sign in shortly.
In addition, crude oil prices enjoy support from OPEC and allies' recent decision to curb crude production by as much as 2.1 million bpd into 2020. This decision would take down around 2% of global oil supply and hopefully prevent oil prices from weakening as a result of anemic demand.
For most of 2019, crude oil has traded bearish as the trade war escalated and had a spillover effect on other nations, causing economic growth to slow across the world. A slowdown in economic growth reduced the demand for oil and drove crude prices lower, despite the OPEC stepping in with supply cuts.