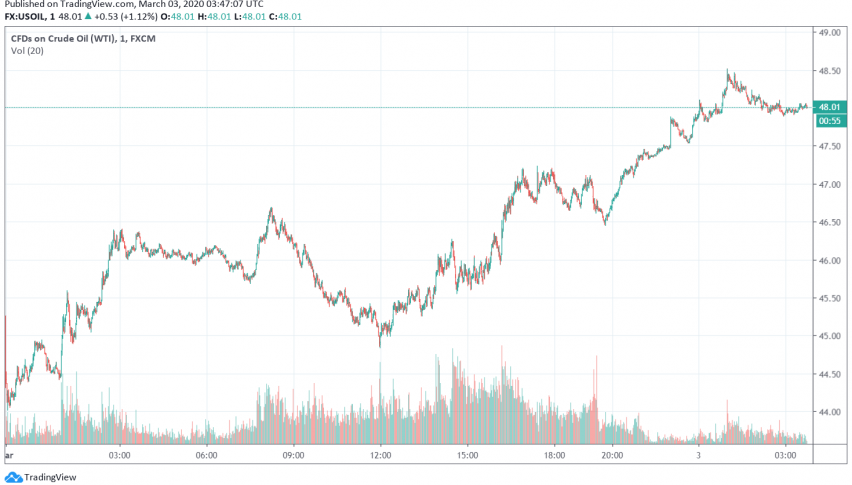 WTI Crude Oil Prices Rise for Second Consecutive Day as Markets Await Central Banks' Response
Posted Tuesday, March 3, 2020 by
Arslan Butt
• 1 min read
WTI crude oil is trading bullish for the second consecutive day as markets widely expect leading central banks to unveil stimulus measures soon and protect the global economy from weakness on account of the coronavirus outbreak. At the time of writing, WTI crude oil is trading at around $48.01 per barrel.
WTI crude oil prices have also seen a slight bounce over increasing hopes for the OPEC and its allies to implement deeper curbs in crude production at their upcoming meeting in Vienna later this week. So far, WTI oil has gained back around 7.9% of its value since last Friday after having weakened by over 20% over the past few trading sessions.
While analysts were initially expecting the OPEC to cut supply by around 600k bpd, the unexpected spread of the coronavirus outbreak outside China and to nearly 60 countries, latest reports estimate the leading oil producers to announce up to 1.7 million bpd curbs in crude production after their meeting on March 5-6.
Last week, there were concerns about whether Russia would give in to implement additional supply cuts, which drove additional business in crude oil prices. However, on Monday, Russian energy minister Alexander Novak confirmed that he was considering agreeing to a smaller supply cut.