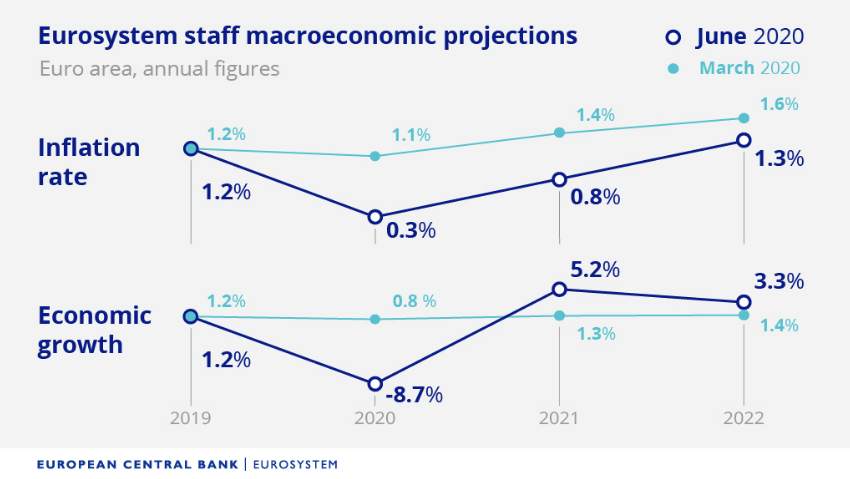 Lower GDP and Inflation Forecast Form the ECB
The European Central Bank (ECB) held its monthly meeting earlier today. They see the economy bottoming out after two three horrible months from March to May, as they
commented on the statement
. Although, they increased the PEPP programme by and additional 600 billion Euros and pledged to keep throwing money at the economy for as long as it's needed.  The baseline is -8.7% this year with a 5.2% rebound in 2021 and 3.3% in 2022. The March forecast was +0.8% for this year.
GDP Growth Forecast
2020 GDP forecast -8.7%
2021 +5.2% vs +1.3% prior
2022 +3.3% vs +1.4% prior
The basic outline here is that it will take until 2022 to recoup the growth lost this year. That's not what the market wants to hear in terms of a quick rebound. The market was looking at something like an 8.0% GDP decline this year.
Inflation
2020 +0.3% vs +1.1% in March
2021 +0.8% vs +1.4% in March
2022 +1.3% vs +1.6% in March
Christine Lagarde Opening Statement
Economy has showed signs of bottoming out
Q2 contraction will be unprecedented
Prices to continue to be depressed by economy
ECB determined to ensure needed degree of stimulus
ECB will do everything possible within its mandate
ECB ready to adjust all instruments as needed
Some bottoming out of economy seen in May
Economy expected to rebound in Q3
Recovery speed and scale remain highly uncertain
Sees 202 GDP at -8.7%
Aside from these headlines, she's reading the statement word-for-word. The euro has given back most of its gains and is up just 25 pips from pre-statement levels.