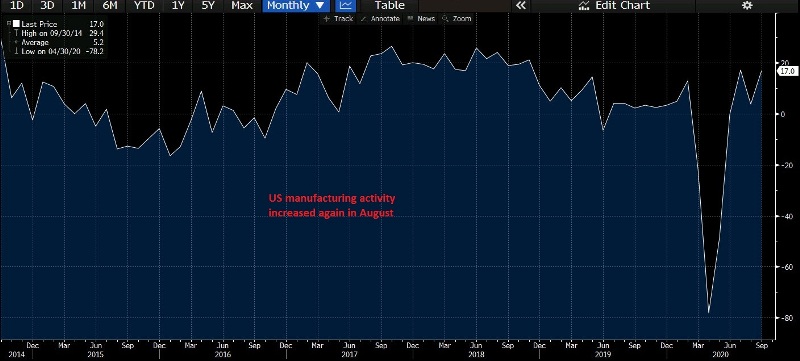 US Empire State Manufacturing Recovers in August, After the Slump in July
The manufacturing and industrial sectors have been hit the hardest by the US-China trade war of the past two years. But, it fell in deep contraction during the coronvirus lock-downs, with US empire State manufacturing index falling to -78.2 points in March. This index started to improve as the economy reopened, but took a bearish turn in July, as last month's report showed. But, today's report showed another jump for August, so thing seem to be going in the right direction in the US.
Manufacturing index 17.0 vs. 3.7 last month
New orders index 7.1 vs. -1.7 last month
Shipments 14.1 vs. 6.7 last month
Number of employees 2.6 vs. 2.4 last month
Average workweek 6.7 vs. -6.8 last month
Unfilled orders -9.4 vs. -14.0 last month
Prices paid 25.2 vs. 16.0 last month
Prices receives 6.5 vs. 4.7 last month
Inventories -3.6 vs. -10.7 last month
The US Empire manufacturing index for September rose by a greater than expected 17.0 verse 6.8 expected. The index was at 3.7 in August. The index reached 17.2 in July only to dip lower in August . The index level this month  was the 2nd highest level since November 2018. The index is now been positive for 3 consecutive months with 40% respondents reporting that conditions had improved over the month while 23% reported that conditions had worsened.