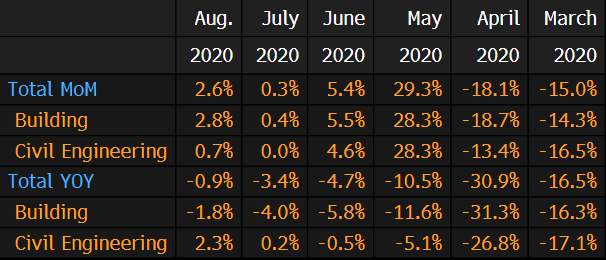 Eurozone August Construction Output Increases, EUR/USD Climbs 60 Pips
The economy of the Eurozone started cooling off from mid-summer, after rebounding for a couple of months, as the continent reopened. The construction sector is still showing some decent numbers from back in August, but considering the weakness during the last few months, and the restrictions that are being put in place in Europe once again, the economy is going to take another dive. At least we can be happy with the construction numbers for August and the 60 pip jump in the EUR/USD, most of which came from the USD side, as the buck turned lower once again.
Latest data released by Eurostat – October 19,
 

2020
August construction output MoM +2.6% vs +0.2% prior
July construction output MoM +0.2%; revised to +0.3%
August construction output YoY -0.9%
July output YoY -3.8%; revised to -3.4%
The boost in construction activity in August added to the more positive narrative in Q3, but that is quickly being put in the rear view mirror now, as the worsening coronavirus developments in the region are presenting a threat of a "double-dip recession". That will be the focus for the euro now, as we get into the thick of things in Q4.