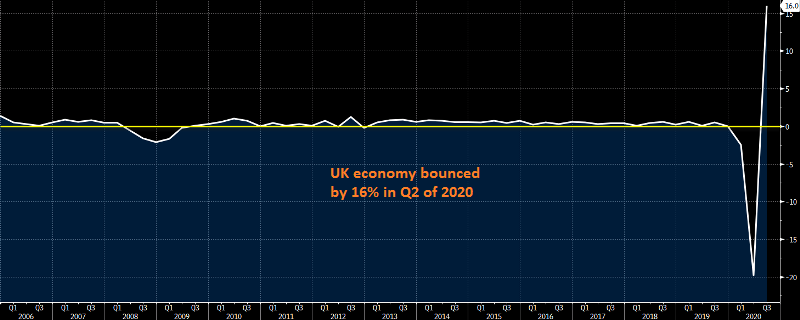 The UK economy went through a massive contraction in Q2 of this year, as a result of the coronavirus and the lockdowns. We saw a 20% decline in the GDP during that quarter, but in Q3 the situation reversed after the reopening, which led to a surge in consumption and gave the economy a big boost, although this will not continue in Q4, as the new restrictions are taking their toll on the economy again.
UK Q3 Final GDP QoQ Prelim
UK Q3 final GDP QoQ +16.0% vs +15.5% prelim
Q3 final GDP YoY -8.6% vs -9.6% prelim
Private consumption QoQ +19.5% vs +18.3% prelim
Exports QoQ -0.4% vs +5.1% prelim
Imports QoQ +11.7% vs +13.2% prelim
Total business investment QoQ +9.4% vs +8.8% prelim
The was a slight delay in the release by the source. The UK economy bounced by more than initially estimated in Q3, with the easing of lockdown measures having helped to bolster economic output during that period. That said, the market has long moved on from this timeline, as things are looking more uncertain for the UK now, amid the discovery of the latest coronavirus strain and the Brexit woes.
We have some important economic events this week, although crude Oil is under spotlight as China's economy should show a rebound
3 weeks ago