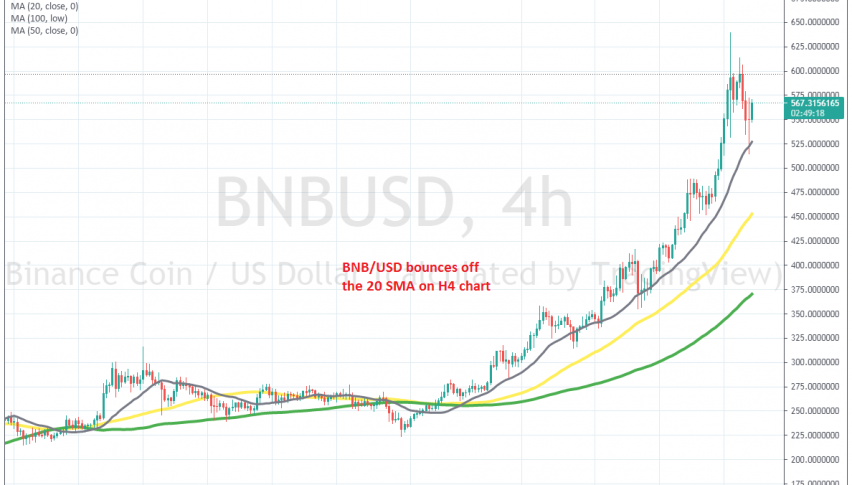 Binance Coin Finds Support at the 20 SMA, After Retreating From $640, Ahead of the ICO from Coinbase
The Binance coin has seen some extremely high demand in recent days, especially since the beginning of this month. It has more than doubled in price in the last two weeks alone, as the surge continues in cryptocurrencies and particularly in Binance BNB.
Binance started the bullish momentum late compared of other cryptos, in February, as we explained in our 2021 Binance forecast. Nonetheless, it reached a new record high of $640 earlier today after the cryptocurrency surged more than 75% in a week, becoming third largest cryptocurrency by market capitalization after Bitcoin and Ethereum. Binance rose over 28% overnight and reach its new high. According to CoinMarketCap data, its trading volume even exceeded Bitcoin's over a 24-hour period.
The token has surged around 1500% year to date, fuelled by the increased popularity of the digital asset ecosystem in general and the Binance Smart Chain in particular. With gas fees reached record highs on the Ethereum blockchain, smaller retail traders begin to look for alternative blockchains to execute cheaper transactions.
A good option was the Binance Smart Chain (BSC) and daily transactions on this network have grown exponentially in the past few months, reaching 3 times higher compared to Ethereum. Binance also aims at reducing the number of BNB coins in circulation over time, with the current amount in circulation approaching the total number.
Other cryptos are also on a bullish run, as they continue to make new highs, including, Ethereum, Litecoin, Bitcoin etc. The IPO (initial public offering) for Coinbase which will take place tomorrow, or the ICO (initial coin offering) as it is called for cryptos and it has improved the sentiment further in this market.
Binance is making the most of it and after the retrace down, it is turning higher again now, following the support from the 20 SMA (gray) on the H4 chart. So, the bullish momentum continues and we are set to see some further new highs I think.