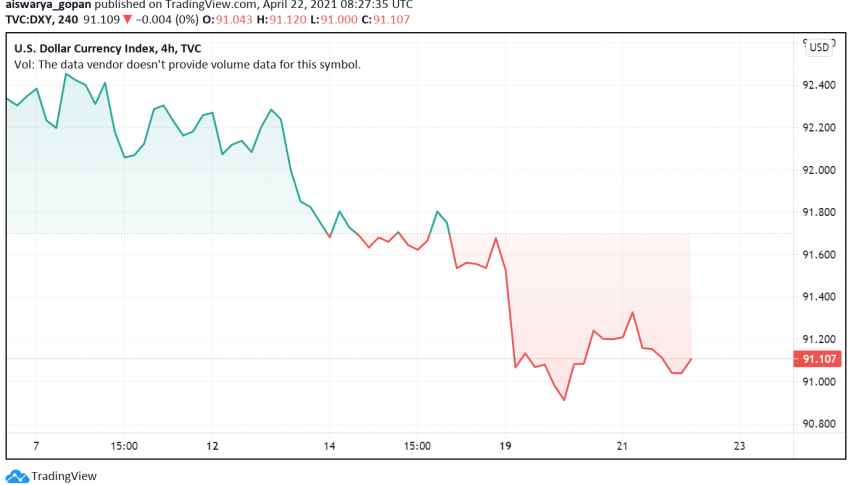 US Treasury Yields Ease Lower, Driving Weakness in the US Dollar
Early on Thursday, the US dollar continues its bearish run, staying at the lowest levels seen since several weeks against most of its key rivals, as falling Treasury yields weaken its appeal. At the time of writing, the US dollar index DXY is trading around 91.10.
Despite the current weakness, analysts still remain hopeful about the greenback, expecting it to strengthen in the medium term on account of the rapid pace of economic recovery in the US. Positive economic data and a robust rollout of the COVID-19 vaccine are anticipated to drive the economy full steam ahead by as soon as this summer, even as its major rivals stay in the grips of fresh waves of the pandemic.
Meanwhile, the US Treasury yields slid lower during the previous session after an auction of the 20-year Treasuries received considerable interest. In March, the benchmark 10-year US Treasury yields had soared to a 14-month high over rising concerns that a quick economic recovery could drive inflation higher and cause the Fed to intervene; however, those concerns have since reduced, driving the yields lower.
Other leading rivals of the US dollar have been making gains in hopes of improvement in outlook for their respective economies, most notably the CAD, AUD and NZD. The Euro is also holding strong, close to multi-week highs ahead of the ECB meeting scheduled for later in the day in anticipation of possible optimistic comments from officials.