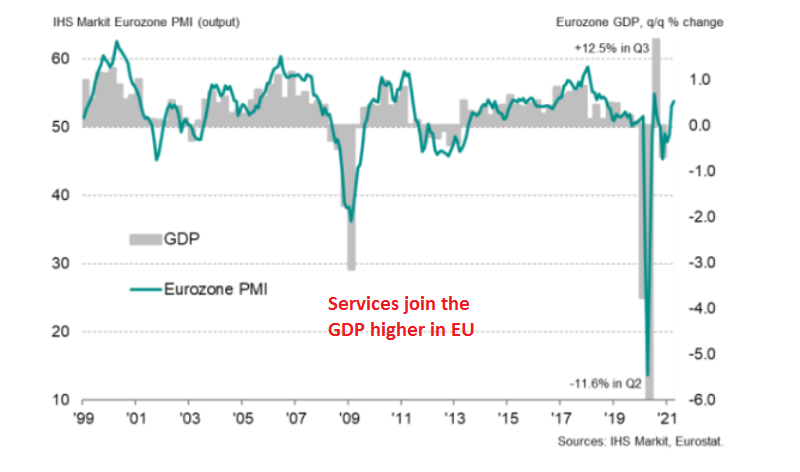 EUR/USD Bounce Off 1.20, As Eurozone Service Sector Comes Out of Recession
The Eurozone was one of the most affected zones from the coronavirus and the restrictions that have been taking place since last March. Services and manufacturing fell in recession last spring, as most economies did allover the globe.
Although, after the reopening in summer, the recession in services returned again as lockdowns and other restrictions came back in Autumn. Manufacturing has remained open and is surging to record levels, just like in the US, although now services returned into expansion again, as today's reports form the Eurozone showed. EUR/USD has turned bullish again today, after the retreat yesterday.
Eurozone April Flash Services PMI Report
April flash services PMI 50.3 points vs 49.1 expected
May services PMI 49.6 points
Manufacturing PMI 63.3 points vs 62.0 expected
May manufacturing PMI 62.5 points
Composite PMI 53.7 points vs 52.9 expected
Prior composite PMI 53.2 points
This just reaffirms a solid expansion in manufacturing activity with services also seen picking up marginally, although lagging much behind factory activity – which is led by Germany.
Markit Notes:
"In a month during which virus containment measures were tightened in the face of further waves of infections, the eurozone economy showed encouraging strength.

"Although the service sector continued to be hard hit by lockdown measures, it has returned to growth as companies adjust to life with the virus and prepare for better times ahead.

"The manufacturing sector is meanwhile booming. Pent-up spending, restocking, investment in new machinery and growing optimism about the outlook have all helped fuel a further record surge in both output and new orders.

"The steep rise in demand for raw materials is continuing to lead to unprecedented supply chain delays, which are in turn driving up firms' costs at the fastest rate for a decade. Consumer price inflation may well rise sharply in coming months as a result, though the extent of the rise will be dependent on the strength of demand and the supply situation, both of which remain highly uncertain at the moment."
atest data released by Markit/BME – 23 April 2021
April flash manufacturing PMI 66.4 points vs 65.8 expected
March manufacturing PMI 66.6 points
Services PMI 50.1 points vs 51.0 expected
Prior services 51.5 points
Composite PMI 56.0 points vs 57.0 expected
Prior composite PMI 57.3 points
All readings reflect two-month lows as the German economy loses some momentum in April, with services activity seen stalling. Supply shortages are cited as a reason for the light pullback in manufacturing production but output is still at healthy levels for now.
"The third wave of the pandemic has stifled progress in Germany's service sector, with April's flash PMI data showing activity close to stalling following the return to growth at the end of the first quarter. The country's manufacturing sector remains on a strong footing, though even here the data show growth being held back by supply problems.

"The imbalance of demand and supply across manufacturing supply chains continues to drive up businesses' costs, which are now rising at the fastest rate for more than a decade. However, while factory gate prices are increasing rapidly in line with strong demand for goods, services firms remain more cautious with their pricing, which somewhat limits the spillover to overall consumer prices. "There was good news on the employment front in April, as efforts by manufacturers in particular to expand capacity drove the fastest increase in private sector workforce numbers for two-and-a half years."