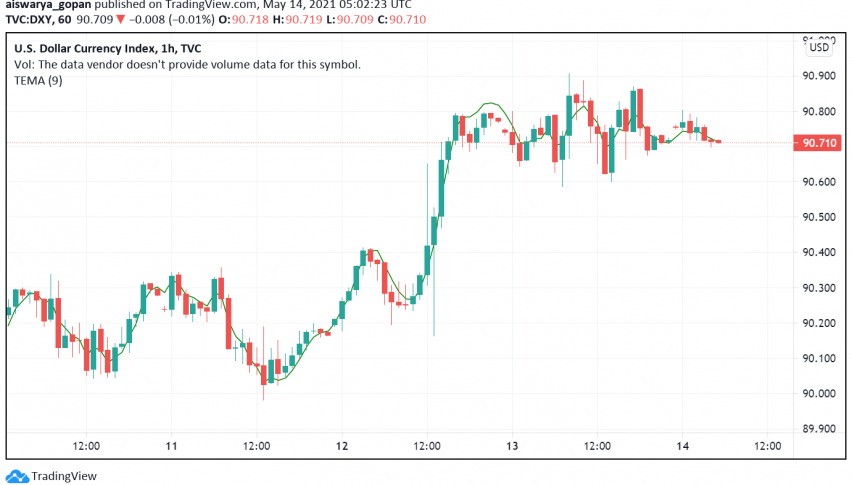 US Dollar Set to Post Small Weekly Gain as Inflation Worries Return
The US dollar's rally is on a hold early on Friday as markets weigh the possibility of inflation picking up pace as the US economy recovers quickly and whether this will convince the Fed to act by hiking interest rates sooner than planned. At the time of writing, the US dollar index DXY is trading around 90.71.
Earlier in the week, US consumer prices came in stronger than forecast while the previous session saw weekly jobless claims also post a steep drop. While the CPI figures did push US Treasury yields higher and drive some strength in the currency, the drop in unemployment claims failed to make as much of a move as markets have possibly already priced in the positive sentiment.
With the Fed maintaining that it will only consider tightening the monetary policy and hiking rates once employment and inflation levels return to pre-pandemic levels, there is considerable uncertainty surrounding the reflation sentiment. In case prices rise too high too quickly on the back of pent-up demand as the economy moves towards recovery, it could drive more problems and put a strain on the economy.
Economists expect inflation worries to remain in focus over the coming months, especially with the US central bank sticking to its stance that any price rise could be transitory. However, despite these worries, the benchmark 10-year US Treasury yields eased below the 1.70% level, keeping the dollar steady.
Despite the latest moves, the US dollar has gained 0.5% against its major rivals so far this week and looks set to end the week in green, after having fallen to a multi-week low earlier in the week. Later in the day, traders will eagerly await the release of retail sales data which could offer better insight into consumption patterns and further drive focus on inflation concerns.