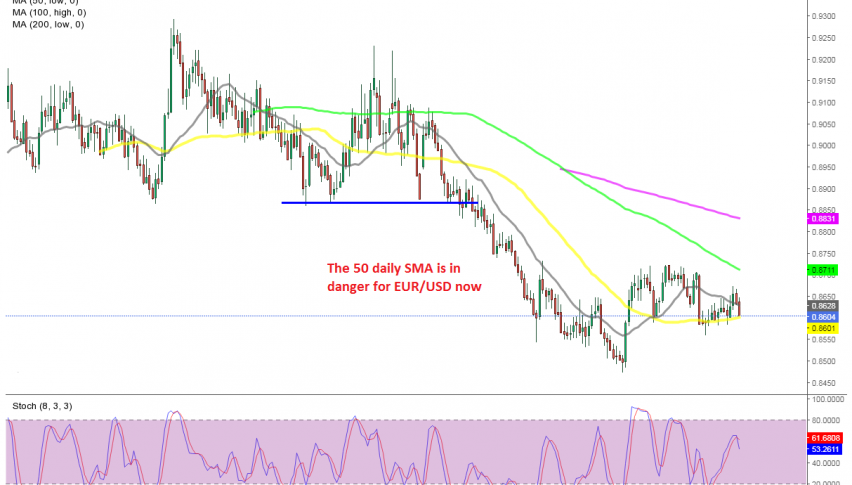 EUR/GBP Reverses Down Again, After the German Consumer Climate Remains Negative
EUR/GBP has been bearish since the beginning of the year losing around 8 cents, as the UK and the EU reached a Brexit deal at the end of last year, improving the sentiment for the GBP, despite the economic contraction due to the coronavirus restrictions.
The pace of the decline was quite fast, as shown by the 20 SMA (gray) which was providing resistance during that period. In April we saw a pullback higher and EUR/GBP moved above the 20 SMA and the 50 SMA (yellow) on the daily chart, but there was no follow through.
Sellers tried to resume the bearish trend again, but the 50 SMA has turned into a great support indicator. Although, with the ECB playing inflation down as transitory and the economic sentiment still negative in some places, the pressure remains down and the 50 SMA will probably break soon.
German Consumer Confidence by GfK – 27 May 2021
June GfK consumer confidence -7.0 vs -5.2 expected
Prior -8.8; revised to -8.6
A slight miss on expectations as German consumer morale improves less than expected going into June, with shoppers looking more cautious despite the better outlook.
GfK notes:
"The drop in coronavirus cases and further progress with vaccinations is helping to open the door to more easing steps in the coming weeks. At the moment, this is mainly fueling economic optimism and creating a sense of new beginnings."
Adding that there might be a potential for demand conditions to surge over the summer months once all lockdown measures are lifted moving forward.