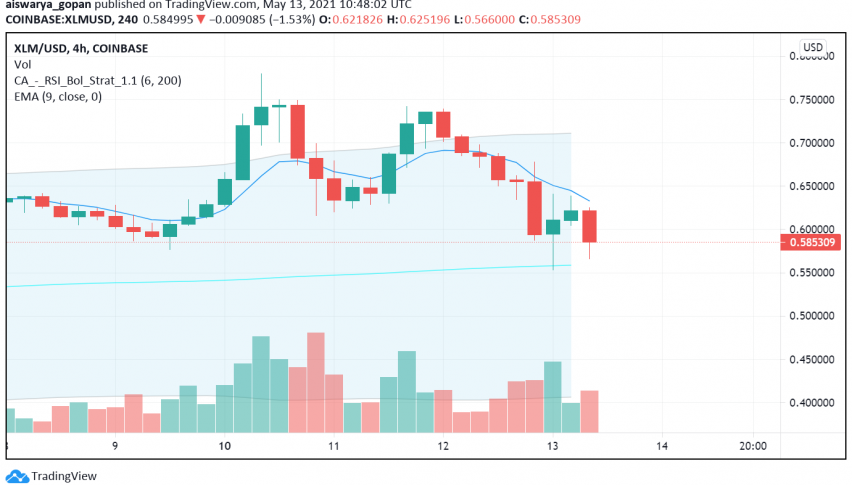 Stellar Lumens Sees More Activity than Bitcoin, Falling 11.55%
Stellar (XLM) is selling at $0.333 [XLM/USD] at the time of this report, and it has dropped 11.55% over the last 24 hours. While this kind of drop may seem catastrophic, it is indicative of the kind of large movements that this crypto is seeing lately.
It fell 2.52% on Saturday and then rose by 1.44% on Sunday. Within minutes, XLM can change by entire percentage points, making it a dream for day traders.
Overall, Stellar is seeing a slightly downward trend, similar to most cryptocurrencies. The decline has significantly slowed from what it was a few weeks ago, though. Between May 16 and May 23, Stellar saw one of its biggest price drops in months, falling from $0.77 down to $0.33.
That massive drop is an outlier compared to most of year, where Stellar has performed quite well overall. Last October, Stellar was sitting at $0.8, and it has seen some impressive spikes from month to month since then. This is one of those cryptocurrencies that moves very quickly in a short period of time, which is why it is such an interesting investment.
Across the Market
Conversely, Bitcoin (BTC) saw major downward movement last month but has tapered off in recent weeks. In the past couple weeks, Bitcoin has only moved by a few fractions of a percentage, making it a safer investment, but not one where traders can expect to see massive gains or losses in a short amount of time.
Cryptocurrency is a very crowded market right now, dominated mostly by movement from Bitcoin, Ethereum, Dogecoin, and Litecoin. Yet it is some of the smaller players that are making some of the biggest moves with the biggest potential for future growth.
Dogecoin made news recently for its massive spike in popularity and huge gains over a short period of time. It saw a 30% rise over a 24-hour period in the middle of May, with a 35% spike not long before that. These are the kinds of gains that made headlines, and some analysts are expecting similar movement from Stellar in the near future.