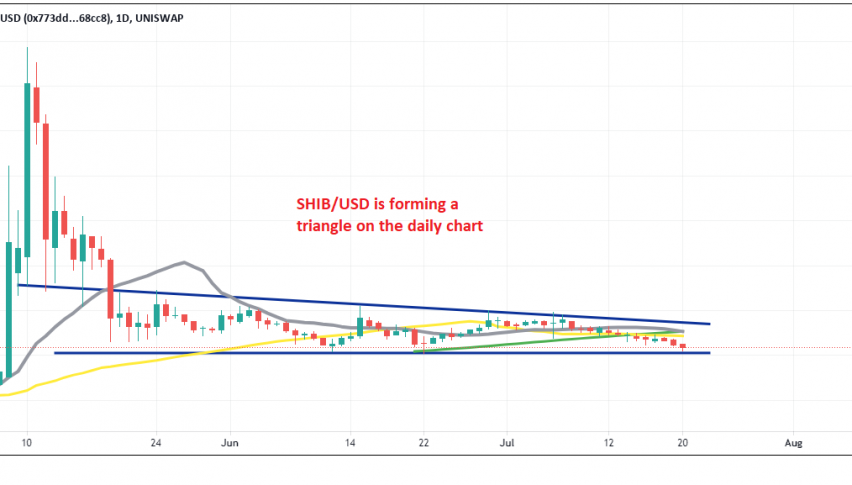 Relentless Selling for Shiba Inu (SHIB/USD), But One Last Level Holds
Shiba Inu holders have been hoping that the decline will come to an end soon, and that the upside momentum will resume again, but all hopes have been going down the drain together, with the price. Moving averages provided some support on the daily chart during the decline that began in May, but only for a brief period before they were broken one after another.
At the top, a declining trendline has also formed, connecting the highs during the retraces up. This shows that buyers have been getting weaker, as the highs keep getting lower every time. So, the pressure remains to the downside for all cryptos and even more so for the strange ones, such as Doge or Shiba Inu.
In fact, the decline has become even more consistent for SHIBA, since the SHIB/USD has been declining for two straight weeks, with no pullback whatsoever. However, one last level stands in the way for sellers, namely the low that this crypto made in June.
Shiba Inu Analysis – Daily Chart
SHIB/INU forming a triangle on the H4 chart
That low comes at around $0.0000050, which held as support twice last month. If you can't read the number, it's 5 zeros after the decimal point. Sellers made an attempt today, at pushing the price down, but the price is pulling up now, having reached $0.0000055.
On the H4 time-frame chart above, the smaller moving averages, such as the 20 SMA (purple) and the 50 SMA (yellow), have been pushing the price down for almost two weeks. This also shows that sellers are in total control, with buyers unable to push the price above these moving averages. So, now SHIB/USD is heading for the support level at $0.0000050, so let's see if that level holds. Bitcoin has broken below $30,000, which is increasing the bearish tone further in the forex market.
Cryptocurrencies were showing strong bullish pressure in the first two months of 2023, but the bullish momentum has faded
7 months ago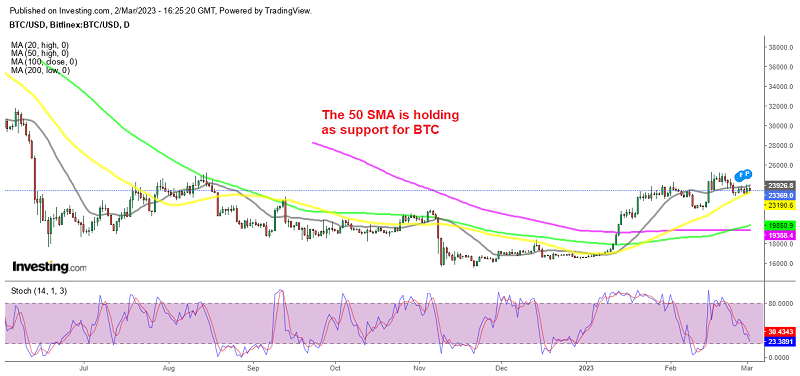 7 months ago