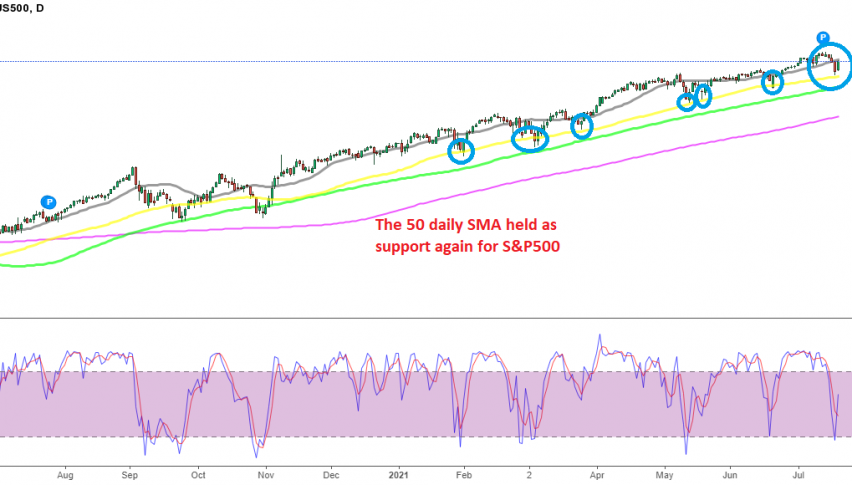 Good Call Buying the Pullback in S&P500 and Dax30 at MAs, Which Continue to Keep the Trend Bullish
Stock markets are one of the easiest to trade among the financial markets. You just wait for a decent pullback lower and buy. Although, stock market trading requires a lot of patience, since trading opportunities don't come too often, especially for intraday traders.
All you have to do is wait for the price in any stock index to retrace lower, to a moving average in one of the time-frames. The last bullish trend that started in March last year has been one of the easiest, which you could read easily so that you didn't get caught on the wrong side.
S&P500 Technical Analysis – Daily Chart
I mean, the chart above paints the picture quite clearly. The US stock exchange S&P500 has followed almost a straight line, which has been pushing the price higher. That indicator is the 50 SMA (yellow). It has provided support during retraces lower many times, while the 100 SMA (green) stood ready to do the same, had the 50 SMA failed.
So basically, just buy and hold, rinse and repeat.Recently, we have been trading DAX quite often compared to other stock indices, while on Monday we decided to buy S&P500 in addition to the German Dax index. Only last week, we had two signals in Dax, one of which we took a bit prematurely.
As shown on the chart at the top, we waited for the pullback to the 50 SMA and went long from there. The price bounced off that moving average and is now heading for record highs again. On the weekly chart above, the support was provided by the 20 weekly SMA (gray).
The 20 SMA is pushing the trend higher for S&P500 on the weekly chart
The reason for the retreat in stock markets in the previous few days was the spread of the new COVID variant, which has increased the risk of further restrictions, as we have seen in Australia. Lockdowns might return in some places and in other places, maybe not, but judging from last winter, when lockdowns were still on, while the economy was running hot, it might be the same this year.
Central banks and governments supported the economy then, and will do so again, through all the cash they can borrow, which will keep the stock markets going, despite everything else. So, the dip because of fears of increased restrictions, due to whichever new coronavirus variant raises its ugly head, would be a good opportunity to buy stock indexes.