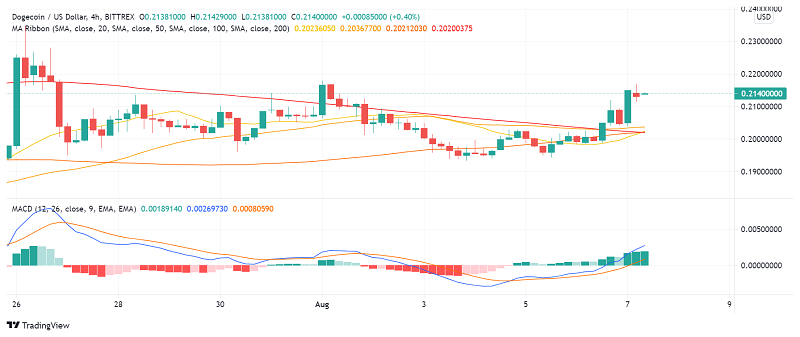 Why This Weekend May Be a Good Time to Trade Dogecoin (DOGE)
Dogecoin (DOGE) is enjoying considerable attention into the weekend, making the most of the bullish mood towards the overall crypto market and holding strong above the key $0.20 level. At the time of writing, DOGE/USD is trading at around $0.214, up by over 6% in the past 24 hours.
In addition to the upbeat mood in the crypto sector on the back of Ethereum's London Hard Fork earlier this week and Bitcoin's surge past the key $40,000 mark after numerous attempts, there are plenty of fundamental developments supporting DOGE prices at the moment. To start with, the leading memecoin's community saw its mood lifted after popular wiener brand Oscar Mayer announced a limited edition pack of 'Hot Doge Wieners' on August 4, valued at around 10,000 DOGE and put it up for auction on eBay.
Further buying activity and an uptick in Dogecoin's social sentiment was noticed in the previous session following a tweet by Twitter CEO Jack Dorsey after he tweeted "WoW". The fans of this crypto took it as a hint of Dorsey's interest in the coin as the term is used frequently in creating Dogecoin-themed memes. What further fueled interest was Tesla CEO and 'Dogefather' Elon Musk's response to the tweet, which drove more activity among the coin's online community.
Dogecoin was also pushed higher after the announcement of the dates for 'Dogepalooza' – a festival that aims to celebrate the most popular memecoin. The event consists of concerts, fireworks show as well as an NFT and is slated to take place in October, and features promising sponsors that can further increase the interest in DOGE.
Key Levels to Watch
On the 4-hour price chart of DOGE/USD, moving averages as well as the MACD indicator are supporting a strong bullish bias in the pair. However, the momentum indicator is flashing 'sell', suggesting that there may be some sellers looming to make a quick profit as well.
Dogecoin's price is holding just above the pivot point at $0.211 and is likely to face the next resistance at $0.227 as it moves on higher past the $0.25 level, where it can encounter some more resistance. A break past this opens the door towards crossing the key $0.30 mark, but not before another round of resistance at $0.29.
Cryptocurrencies were showing strong bullish pressure in the first two months of 2023, but the bullish momentum has faded
3 weeks ago