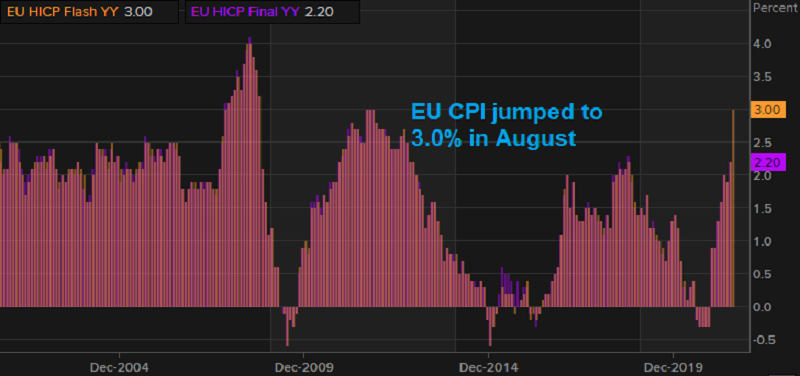 Inflation Finally Jumps in Europe – Will the ECB Turn Hawkish Now?
Inflation has been one of the main drags for the Euro, since the CPI (consumer price index) has remained pretty weak, with the headline CPI at 0.7% YoY, which was much lower than in the US. The activity for the rest of the economy increased considerably during spring/summer, catching up with the US, but inflation remained low. That stopped the European Central Bank from even mentioning a policy reversal from the extremely loose one that is currently in place.
Now, that inflation is looking much better, the ECB should do an about-turn and start looking to hike rates. But, we are not in normal times, and the restrictions are coming back in Europe as we leave summer behind. These restrictions have become a constant now, unless we see massive protests. So, the ECB isn't likely to change its position, although the EUR/USD has popped higher above the 50 SMA (yellow) on the H4 chart.
EUR/USD Analysis – EUR/USD H4 Chart
EUR/USD jumps above the 50 SMA on the H4 chart
Eurozone August preliminary CPI
August preliminary CPI YoY +3.0% vs +2.8% expected
July CPI inflation was +2.2%
Core CPI YoY +1.6% vs +1.5% expected
July core CPI was +0.7%
So, Eurozone inflation surged to a 10-year high, which is creating a bit of a headache for the ECB, as it challenges their view on price outlook, and policymakers continue to maintain that the increase is transient. That said, they do mention that their view accounts for a peak in prices in around November, but the issue here is that the continued hit to supply chains globally will still oversee higher and rising cost pressures towards the end of the year. The ECB's Holzma is already for slower PEPP purchases, but I don't think that will happen soon.
Remarks by ECB policymaker, Robert Holzmann
Would advocate the slowdown of PEPP purchases in Q4
ECB in a position to think about reducing pandemic aid
ECB should de-link guidance on rates, APP purchases
APP does not need the same kind of flexibility as PEPP
ECB needs to have inflation risk on its mind
This was supposed to have come in September, but the Delta variant risks did throw a bit of a curveball at the economic outlook in the past month or so. That said, Europe seems to be in a good position, as vaccinations have progressed well.
In any case, they may see fit to reduce the pace of PEPP purchases towards year-end, but the program is likely to stay the course until March next year, as intended.