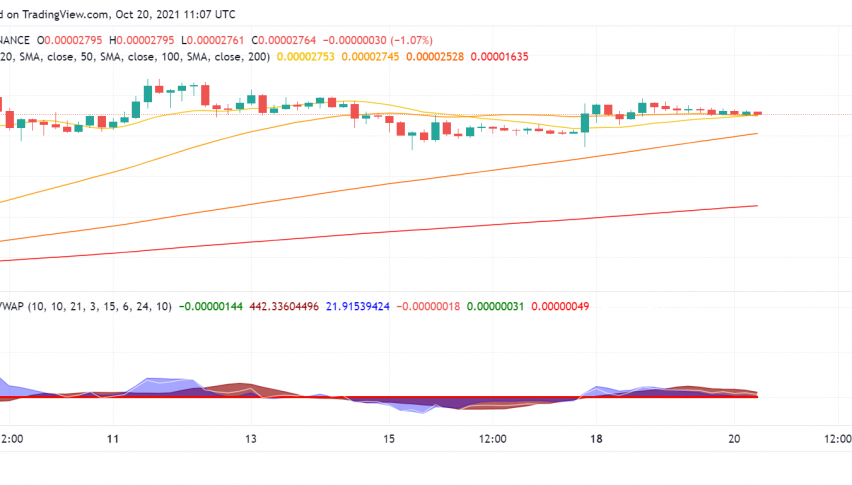 Shiba Inu (SHIB) Trades Steady Even as Markets Cheer Bitcoin's Rise
Shiba Inu (SHIB) appears to be consolidating under the $0.000028 level for a while, failing to break higher but not giving up its gains from the latest rally either, and sending mixed signals to investors at the moment. At the time of writing, SHIB/USDT is trading at around $0.000027.
The optimism surrounding Tesla CEO Elon Musk's tweet from earlier this week appears to be waning, but the SHIB token enjoys support from the positive market sentiment prevalent towards cryptocurrencies at present. During the previous session, crypto king Bitcoin touched a record high over optimism about the launch of the first US-based Bitcoin ETF, powering a bullish mood towards other digital currencies. Bitcoin was also trading higher after Square's CEO Jack Dorsey indicated that his company was looking into creating a Bitcoin mining system for consumers and companies worldwide.
The second largest memecoin Shiba Inu enjoys a close correlation with Bitcoin, and as a result, enjoyed the support from BTC's uptrend and failed to experience too much of a dip in price even as several investors indulged in profit-taking. The volatility in the SHIB token remains high as its online community rallies hard to engage crypto investors into boosting its acceptance.
The Shiba Inu coin could enjoy some more attention from buyers in the near-term after leading digital asset analytics firm Santiment shared an interesting observation about a high number of whale transactions in the coin lately. According to the firm, transactions in SHIB exceeding $100,000 have been on the rise lately, and could be suggestive of more upside coming up in its value soon.
SHIB/USDT Technical Analysis
With a lack of more fundamental drivers, it's time to focus on the technicals to gain insight on how SHIB can move in the near-term. Technical analysis suggests that, in the absence of fundamental drivers, we could see Shiba Inu's price experience a slight pullback before buyers gain momentum to take it higher once again.
On the H4 price chart of SHIB/USDT, we find most of the moving averages exhibiting a strong bullish bias. However, leading technical indicators MACD and momentum suggest some selling interest as well.
Shiba Inu's price is sitting very close to the pivot point, making it a good time to wait and watch before entering the market. An uptick in selling pressure can see a break down of the PP. On the other hand, if more buyers jump in now, we could see SHIB make its way back up soon.