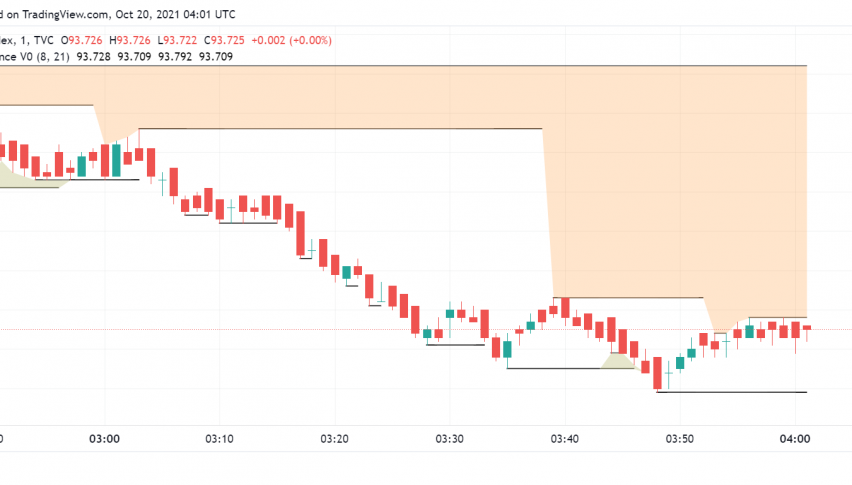 US Dollar Feels The Pressure as Market Sentiment Picks Up
The US dollar is trading under pressure on Wednesday, weighed down by mixed signals from US Treasury yields – while the long term rates lend strength to the currency, a decline in short term bond yields is keeping it bearish against other leading currencies. At the time of writing, the US dollar index DXY is trading around 93.72.
In addition, the safe haven status of the greenback is also losing some of its sheen amid a return of risk appetite among global investors, sending them towards riskier instruments such as equities and cryptocurrencies. The market sentiment has been on the uptick in recent sessions over optimism about global economic recovery on the back of widespread rollout of COVID-19 vaccines worldwide.
The surge in the benchmark 10-year US Treasury yields to the highest levels seen in five months helped the US dollar trade at a multi-year high against leading safe haven currency Japanese yen. Earlier in the Asian session, USD/JPY touched 114.585 – a level not seen since November 2017.
The US dollar has also come under pressure as investors eased back on expectations for the Fed to hike interest rates sooner than initially planned. This sentiment comes even as they anticipate imminent rate hikes in other key economies such as New Zealand and the UK.
Investors also sold off the greenback after the release of some weak economic data during the previous session. US homebuilding posted a surprising decline during the month of September while building permits hit the lowest levels seen in a year on account of severe shortage in raw materials and labor, dimming the US's economic outlook for Q3 2021.