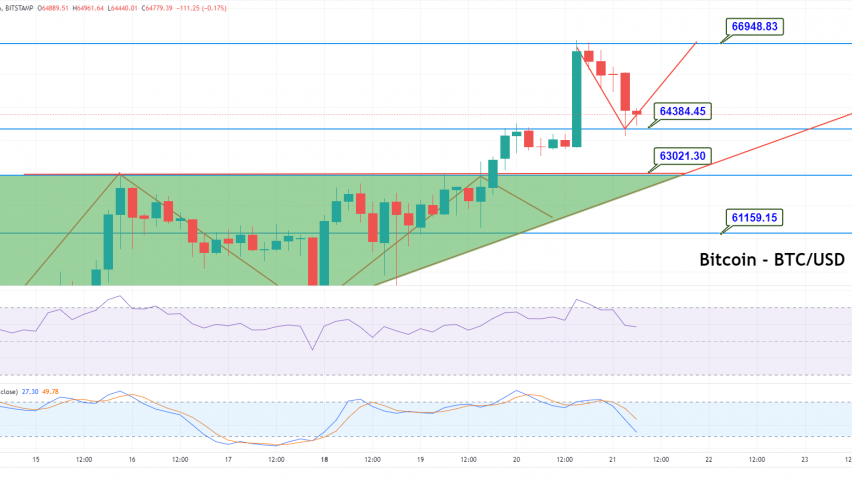 Bitcoin Retraces From ATH $67016, Brace Yourself to Buy the Dip  
Posted Thursday, October 21, 2021 by
Arslan Butt
• 2 min read
On Wednesday, Bitcoin burst through the $65,000 barrier to reach a new all-time high against the US dollar. However, BTC is now retracing gains, having fallen close to $63,000, but it could still be appealing.
Paul Tudor Jones Prefers Bitcoin over Gold
Presently, Bitcoin is "winning the race against gold," according to billionaire hedge fund manager Paul Tudor Jones. He also stated that cryptocurrencies, rather than gold, are his preferred inflation hedge.
On Wednesday, in discussion with CNBC, Paul Tudor Jones, the founder of asset management company Tudor Investment Corp., discussed bitcoin, saying that it was his preferred inflation hedge. He stated:
"Clearly, crypto has a future. Clearly, it is now winning the race against gold… At the moment, that would be my preferred option above gold."
Bitcoin vs. Gold 
The price of bitcoin surpassed all-time highs on Wednesday, following the launch of the first bitcoin futures ETF in the United States on the NYSE. Over the last year, gold has lost 8%, while bitcoin has risen 437%.
Bitcoin Open Interest is Increasing
During the month of October, there was a significant surge in open interest in Bitcoin. Open interest has increased by 23 percent in October alone, mirroring the asset's month-to-month growth. This is the fastest growth in worldwide open interest in 18 days, and a 7-month high. Bitcoin has led the way in terms of worldwide open interest, recording the most significant development in this regard.
Last week, the global open interest in Bitcoin stood at 350,000 BTC. This week, though, that figure has risen to 370,000, reverting to levels seen in April, at the peak of the previous bull market.
Bitcoin Futures Contracts on the CME have been the primary driver of the increase in open interest. This, too, has set a new high, with the amount held in Futures Contracts currently approaching $4 billion.
Bitcoin's price has risen beyond the $63,500 resistance level. BTC has broken through the crucial $65,000 resistance zone and is trading above the 100-hourly simple moving average.
It even broke through the $65,500 resistance and reached a new all-time high of $66,982. It is presently correcting lower, and selling under $66,000. There was a break below the 23.6 percent Fib retracement level of the rising wave  from the swing down to $61,320, to the high of $66,982.
The $64,200 level provides instant support. On the BTC/USD coin's hourly timeframe, a critical bullish trend line is forming, with support of about $63,000.