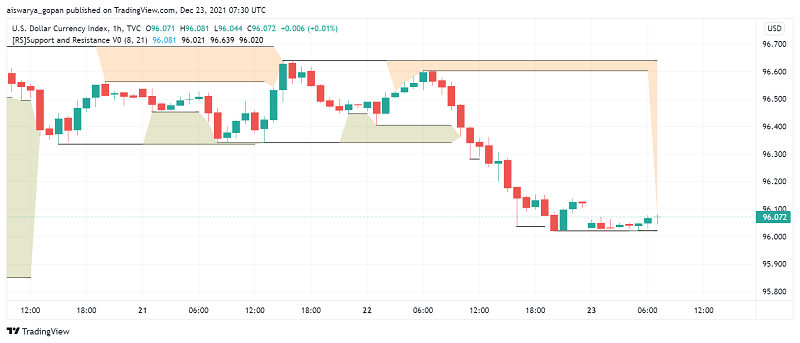 US Dollar Slips Lower as Market's Risk Appetite Returns
The US dollar's safe haven appeal has taken a hit in early trading on Thursday as markets turned more optimistic about global economic recovery despite the ongoing spread of Omicron cases across several parts of the world. At the time of writing, the US dollar index DXY is trading at around 96.06.
The market sentiment improved after a study from South Africa indicated that there was a reduced risk of hospitalization and severity from the Omicron variant in comparison with the Delta variant. This report has given some hope to traders that the economic fallout from the highly contagious variant of COVID-19 could be negligible despite several countries imposing fresh restrictions.
The dollar index has dropped close to a one week low as investor appetite for riskier instruments increases. This has helped leading commodity currency AUD trade above the key $0.72 level after experiencing a sharp hike during the previous session.
Losses in the US dollar remain limited after the release of the US consumer confidence figures on Wednesday. Data released by the Conference Board reveals an uptick in consumer confidence across the world's most powerful economy, from 111.9 in November to 115.8 during December. This has offered some hopes for the US economic recovery even as inflation worries among US consumers eased lower.
Several analysts believe that the weakness in the US dollar could be temporary as the reserve currency could remain well bid on account of the Fed's hawkish plans for the coming year. In contrast, other leading banks, especially the ECB, have signaled their intention to maintain a dovish tone for longer amid a cautious outlook for their respective economies in the coming months.