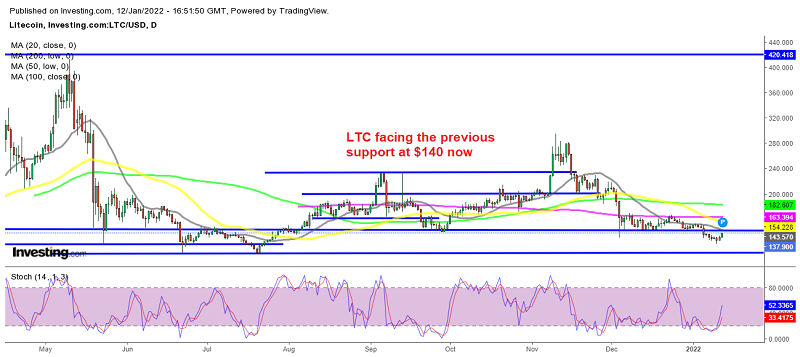 Litecoin (LTC), Kadena (KDA) Beginning the Reversal Higher
Cryptocurrencies have started to reverse higher this week, after they resumed the decline last week, which sent them to new lows. However, this week they have reversed higher, after Bitcoin reached the $40,000 level, which has acted as support and resistance before. So, this might have been the target for cryptocurrencies, and now it seems like the trend might be reversing higher. Litecoin and Kadena have made some decent gains, so let's see if they can turn bullish now.
Litecoin Daily Chart Analysis – LTC Heading Toward Resistance
Litecoin was bullish from August, when it formed a base at around $105. It increased to $296 by the middle of November, but then the sentiment turned bearish in the crypto market, and Litecoin turned bearish, falling to $140, where it formed a base for around a month. But that support zone was broken last week, as the bearish sentiment in the market picked up again.
LTC/USD fell by $121 on Monday, but in the last two weeks, it has been making some decent gains. Above that, there is the $140 resistance zone, which will be a big test for Litecoin. If it pushes above, then it will enter the bullish zone again, otherwise, it will remain in the fantom zone between $100 and $140. Litecoin's MimbleWimble (MW) feature could be launched in January, after years in the making. It should revive the interest further for Litecoin, which is the third most active blockchain.
Kadena Daily Chart Analysis – KDA Bouncing Off Support Again
Kadena is bouncing between two support/resistance levels
Kadena is a Layer 1 blockchain that operates based on Power of Work (PoW), but it is much more scalable than Bitcoin and Ethereum. This is due to its braided chains technology, which makes it possible for Kadena to execute up to 480,000 transactions/second (TPS). Kadena is a player in the DeFi space, and the latest product from the CoinMetro-Kadena collaboration, Wrapped Kadena, brings it further into this new industry. In order for Kadena users to yield farm on Ethereum, they can now wrap their KDA on CoinMetro.
So, interest in Kadena will keep increasing, and this latest pullback might be a good opportunity to buy KDA coins. KDA/USD stopped declining at the support above $8, and the price is starting to turn bullish now. If the bullish trend resumes, KDA could reach the top at $27 pretty quickly, which would mean a 300% return.