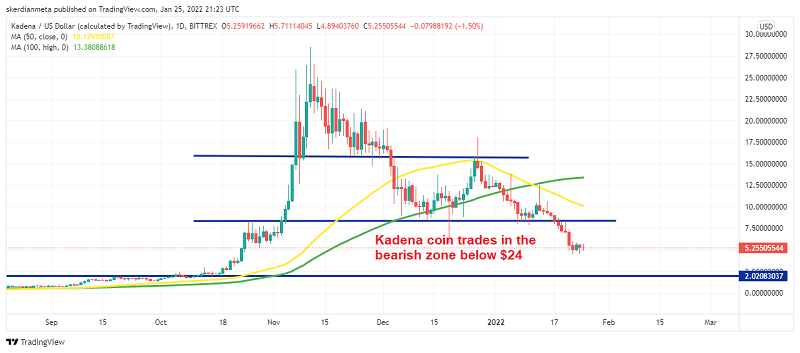 Kadena Coin (KDA), Polkadot (DOT) Approaching Support Buying Level
The decline in the cryptocurrency market should not be seen as a bad thing, especially for those who have remained out of a trade or those who closed their buy positions earlier. This decline makes cryptocurrencies cheaper, which in turn makes them tempting to buy. But I wouldn't buy Kadena and Polkadot coins right now, since they are approaching support areas where it would be better to buy.
Kadena Breaking the Support Above $8
Kadena is a Layer 1 blockchain, that uses power-of-work (PoW), which has come under pressure recently for consuming too much energy. But, Kadena is a very scalable network and can execute up to 480K transactions per second (TPS) by using braided chains. Recently CoinMetro and Kadena have partnered to bring Wrapped Kadena WKDA, which should increase the interest further for this network and the KDA token.
So, we are preparing to buy Kadena, which made a massive rally during October and early November, gaining more than 1,000% in value. But, it has been sliding lower since then, and last week KDA/USD reached the support area above $8, while the 50 SMA (yellow) has turned into resistance on the daily chart. In the last few days, the decline has stalled, but chances are that it might resume again. So we are waiting for Kadena coin to reach the support/resistance area around $2 which would offer a great risk/reward ratio.
Polkadot Breaks the Support at $24
Polkadot has entered the bearish zone below $24
Polkadot is another interesting blockchain, which offers interoperability between other Layer 1 blockchains that lack it, such as Ethereum. The sharded multi-chain protocol should benefit from the growth of DeFi (decentralized finance) and non-fungible tokens, considering high fees for other networks, such as Ethereum and Bitcoin.
But the bearish sentiment in the market has been pulling DOT/USD down with it, with the 50 daily SMA also acting as resistance here. The support zone around $24 was broken last week, and now Polkadot is headed towards the next support at $10, which would be a great place to buy this cryptocurrency. So, we are following this coin and I will let you know when we buy it in our live forex signals section.