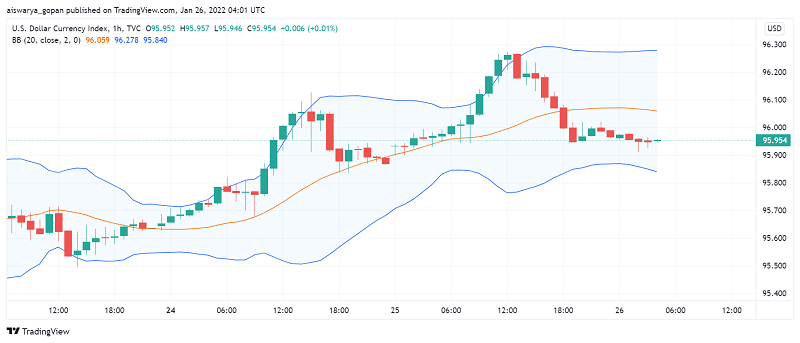 US Dollar Supported Ahead of FOMC as Geopolitical Tensions Weigh
The US dollar is trading mostly steady against other major currencies ahead of the release of the FOMC statement later in the day and enjoying support as a safe haven investment against the backdrop of geopolitical tensions. At the time of writing, the US dollar index DXY is trading around 95.95.
Global financial markets are trading with a risk-off sentiment amid rising worries of a military conflict between Russia and Ukraine, which could very well pull in the Western powers as well. This sentiment is keeping investors away from trading riskier instruments like cryptocurrencies and equities and increasing buying activity in the more stable greenback. US and global equity markets are deep in the red, feeling the weight of the pandemic's uncertainties and now the Russia-Ukraine tensions.
Investors are also eagerly waiting for the Fed's statement at the end of its latest policy meeting for clues on a timeline for monetary tightening measures and rate hikes. The US central bank's policymakers could also shed light on dwindling its massive balance sheet which stands at around $9 trillion at present.
As long as the economic recovery progresses steadily over the coming weeks, markets are expecting the Fed to announce a rate hike by as soon as March. Meanwhile, policymakers could start working on trimming the Fed's balance sheet later this year.
In the previous session, the US dollar index DXY had soared to the highest levels seen in two weeks amid a renewed safe haven interest in the currency against other riskier currencies. The preference for the greenback has hit the common currency, sending EUR/USD to trade close to the $1.13 mark while GBP/USD experiences weakness around $1.35.
The USD ended up higher after the last FED meeting, so today's FOMC minutes point to more bullish momentum for the USD
2 months ago