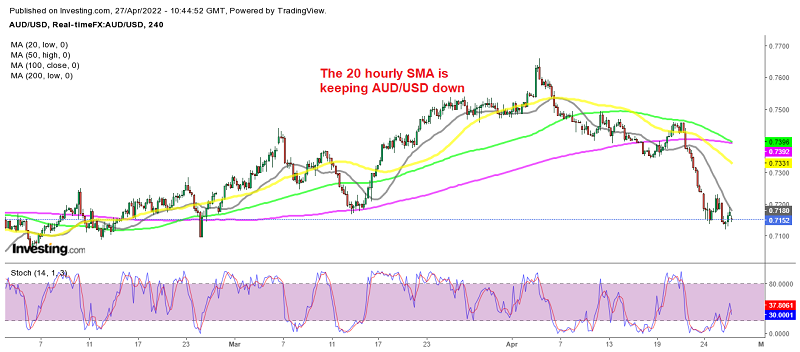 Will Higher Inflation Force the RBA to Hike Rates?
Inflation is surging everywhere except for China and Japan for some reason. CPI (consumer price index) inflation was already increasing for two years, despite the pandemic and the lockdowns. But, in March we saw another jump after the conflict in Ukraine started. Crude oil jumped to almost $130 after the US placed sanctions on Russia, but it has come back down and keeps trading around $100. Yet, the price of everything has jumped, which has sent inflation to unseen levels.
Central banks are adding to this madness, as they are hiking interest rates despite that inflation is not coming from an economic boom, but rather from price hikes. So, central banks are making mortgage payments more expensive now, while wages are stagnating. Although the Reserve Bank of Australia hasn't increased interest rates yet. They kept them unchanged at 0.10% in the last meeting earlier this month, but might start hiking them soon. The Aussie has been on a bearish trend since the first week of this month, having lost more than 500 pip so far. CPI inflation jumped higher today to 2.1% QoQ, which means more than 8% on a annualized basis.
Australian Q1 CPI Inflation Report
Headline CPI QoQ +2.1% vs  1.7% expected
Q4 of 2021 CPI was 1.3%
CPI YoY +5.1% vs 4.6% expected
Prior CPI YoY was 3.5%
Core 

Inflation Measures
Trimmed mean QoQ +1.4% vs 1.2%
Prior trimmed mean CPI was 1.0%
Trimmed mean YoY +3.7% vs 3.4% expected
Prior trimmed mean CPI YoY was 2.6% (the RBA target band is 2 to 3%, "on average, over time")
Weighted median CPI QoQ 1.0% vs 1.1% expected
Prior weighted median CPI QoQ was 0.9%
Weighted median CPI YoY 3.2% vs 3.3%
Prior was 2.7%
Both the headline and trimmed mean have come in above consensus expectations. If this does not stick a rocket up the RBA and prompts them to hike next week (meeting is May 3) I don't know what it'll take (the Reserve Bank of Australia have used the 'waiting for wage growth' excuse, so that's what they'll say if they sit on their hands again).