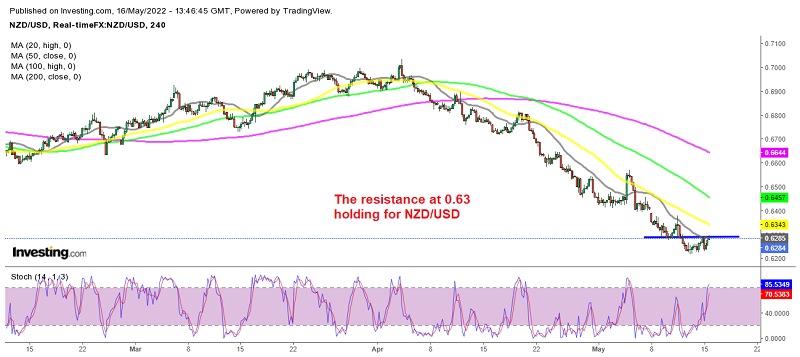 Selling NZD/USD After the Slight Improvement in Market Sentiment
Today we are witnessing a positive risk sentiment in financial markets, which is a continuation of the positive sentiment we saw last Friday and during the weekend on cryptocurrencies. Risk assets have been making some gains, particularly commodities and commodity dollars.
NZD/USD has been retracing higher but buyers are finding it hard to push above the resistance around 0.63. This forex pair has lost around 8 cents since early April, as the USD has picked incredible pace, while risk assets have been declining as a result of the economic troubles in China, which means lower demand for commodities. We have been selling this pair many times during this time and a trying another short today.
This morning's data from China was horrible again, showing a plunge in industrial production and retail sales, while fixed asset investment also cooled off in April. This means more trouble for global demand and supply chains, which will keep weighing on risk currencies. So, we decided to sell NZD/USD below the support and resistance level.
Negative Economic Forecasts for the Future
Meanwhile, the rating agency Fitch says that consumer-focused firms in China are facing varying risks as demand weakens. The ECB on the other hand cut 2023 Euro Zone economic growth forecast to 2.3% from 2.7% in February. Inflation, which the European Central Bank wants to keep at 2.0% will be 6.1% this year, the Commission forecast and fall only to 2.7% next year. Before the war, the Commission expected prices to grow 3.5% in 2022 and 1.7% in 2023.
Durable goods orders showed a 0.2% increase in August, against -0.5% expected and July's -5.2% decline, which was revised to -5.6%
5 days ago