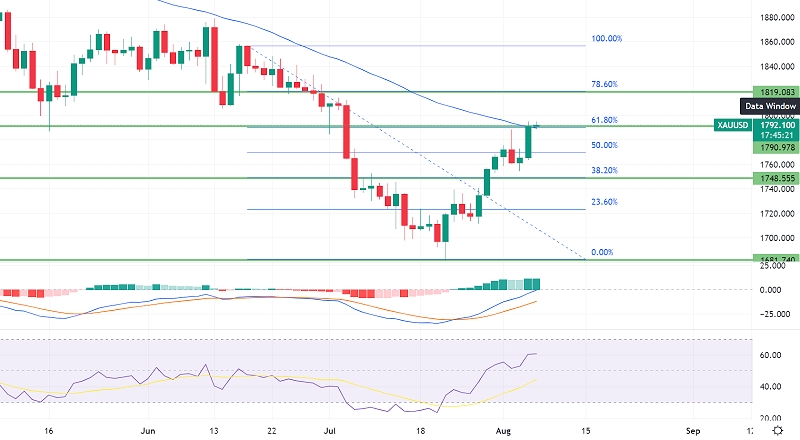 Gold Completes 61.8% Fibonacci Retracement – Eyes on US NFP
The gold price has fallen below $1,790.00 after failing to break through the psychological resistance level of $1,800.00 during the Asian session. The precious metal GOLD formed a short-lived double top, and market participants anticipate a minor correction.
Meanwhile, despite the downbeat estimates for US labor market data, the US dollar index (DXY) has performed admirably after the open. Following the consensus of 250k job gains in July, JP Morgan economists predict that the US Nonfarm Payrolls (NFP) will be 200K in July's labor market report.
What is US Nonfarm Payroll?
The nonfarm payroll (NFP) report is an important economic indicator for the United States since it shows the total number of paid employees in the United States, excluding those employed by farms, the federal government, private homes, and nonprofit organizations.
In the foreign currency (FX) market, the nonfarm payroll data consistently generates one of the greatest rate swings of any news event. As a result, many experts, traders, funds, investors, and speculators are anticipating the NFP data and its influence on the currency.
The US economy added 372k jobs in the labor market in June. However, a steady decline in job creation data suggests that the labor market is under severe strain. On the other hand, the unemployment rate will remain stable at 3.6 percent.
Rising interest rates and their multiplier effects have created downside risks in labor market activity. Due to the high cost of dollars, corporate players cannot invest without hesitation. As a result, lower investment opportunities cannot accelerate the job creation process.
Gold Technical Outlook
Gold price managed to breach the 1779.25 level and attempted to hold above it, which effectively supports the resumption of the expected bullish trend scenario for the upcoming period, paving the way to our next positive target at 1802.80, noting that holding above 1779.25 is the first condition to continue the suggested rise.
Today's trading range is expected to be between 1755.00 support and 1790.00 resistance.
Today's expected trend: bullish