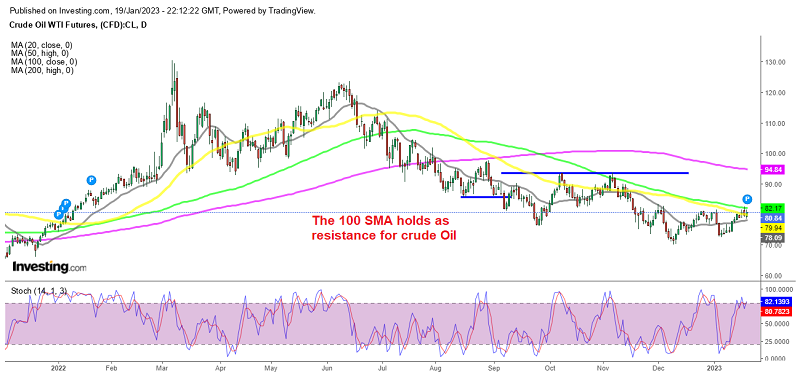 Oil Turned Bullish Yesterday Despite Another Crude Inventories Buildup
Crude Oil has been bearish since March last year, as central banks kept raising interest rates and the global economy headed toward a recession. Besides that, the lockdowns and restrictions continued in China which kept the demand on the low side. But, the FED started to soften up the hawkish stance and slowed to 50 bps (basis points) in December, with expectations about slowing further and stopping at some point.
This has improved the sentiment in financial markets, meaning that the recession might be mild. US WTI crude formed a support zone above $70 and has been climbing higher since early this year. Oil reached the $100 SM A(green) above $82 but this moving average rejected the price again and Oil reversed back down on Wednesday. The retail sales report that day came negative, showing a larger decline than expected which increased the odds of a deeper recession and helped in sending crude Oil more than 400 pips lower.
But, the decline was attributed to the freezing weather around Boxing Day in the US which saw crude Oil reversing higher due to this. Yesterday, the unemployment claims came better than expected, which indicates that higher employment will keep the economy afloat, while the Philly Fed Manufacturing Index also improved. So, Oil continued to make gains and climbed above $80 again yesterday.
The gains continued despite another major buildup in US crude inventories. The EIA build this week was 8.408M barrels vs 0.593M drawdown expected. Last week, the build was 18.962M barrels. But, if buyers are to be in charge and push higher, staying above that level is needed to keep the bullish bias.
US Petroleum Inventory Data
EIA weekly US crude oil inventories +8408K vs -593K expected
Prior crude +18962K
Gasoline +3483K vs +2529K exp
Distillates -1939K vs +122K exp
Refinery utilization +1.2% vs +3.8% exp
The SPR draw last week was nil last week
API data from late yesterday:
Crude oil

 +7615K
Gasoline +2810K
Distillates -1800K
Cushing +3700K
Winter freeze-offs at refineries in the US have made these numbers volatile for a few weeks. There have been some huge builds but the market has been able to look through it. One of the reasons for the large build this week was that refineries haven't gotten back to work as fast as expected.