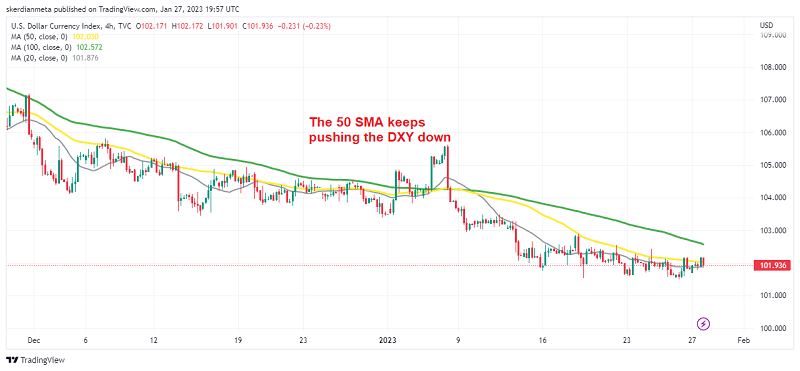 Is the USD Due for A Strong Bounce As Data Improves and Core Inflation Remains High?
Risk assets have been bullish since October, as sentiment improved on slower rate hike prospects by the FED and other major central banks, after being really bearish throughout 2022 as central banks kept raising interest rates at an incredible pace.
The USD on the other hand has been retreating lower pretty fast since October, as the economic data has slowed considerably while consumer inflation has cooled off. But, the core figures remain high and we're seeing some improvement in the economic data, so the U economy will likely avoid a recession.
The GDP report on Thursday showed that growth slowed slightly in Q4 from Q3, but was better at 2.9% than the general consensus, which is far from a recession and helped improve the sentiment for the USD. Core price index in the GDP only ticked lower by one point to +3.9% vs +4.0% expected. On Friday the pending home sales for Dcelmebr posted a nice bounce as shown in the report below.
US December 2022 Pending Home Sales Data
December pending home sales +2.5% vs -0.9% expected
November sales were -4.0% (revised to -2.6%)
Index 76.9 points vs 73.9 points prior
This is the first improvement since May
The December numbers look good but there's talk of better home-buying business in January as consumers see rates in the low 6s. "This recent low point in home sales activity is likely over," said NAR Chief Economist Lawrence Yun. "Mortgage rates are the dominant factor driving home sales, and recent declines in rates are clearly helping to stabilize the market."
Durable goods orders also posted a nice jump of 5.6% in December despite the extremely cold weather around Boxing Day. That shows better consumer sentiment and the UoM indicators confirmed that as well.
Final January University of Michigan Consumer Sentiment
Final UoMich January consumer sentiment 64.9 points vs 64.6 expected
Prelim consumer sentiment was 64.6 points
Prior consumer sentiment was 59.7 points
Current conditions 68.4 points vs 68.6 prelim
Expectations 62.7 points vs 62.0 prelim
1-year inflation 3.9% vs 4.0% prelim (4.4% prior)
5-10 year inflation 2.9 % vs 3.0% prelim (2.9% prior)
The USD index DXY has been bearish since October, while picking up pace in November. Although, since the middle of January the pace of the downtrend has slowed and despite still making lower highs, sellers look exhausted after four months of pushing the price down. So, technically there's a decent chance that the USD might bounce from here and fundamentals also suggest that.
The FED kept interest rates on hold yesterday, but the USD rallied on more hikes to come and higher-for-longer policy
4 months ago
The FED is expected to hold interest rates unchanged at 5.25% today, but the rhetoric will be more important
4 months ago