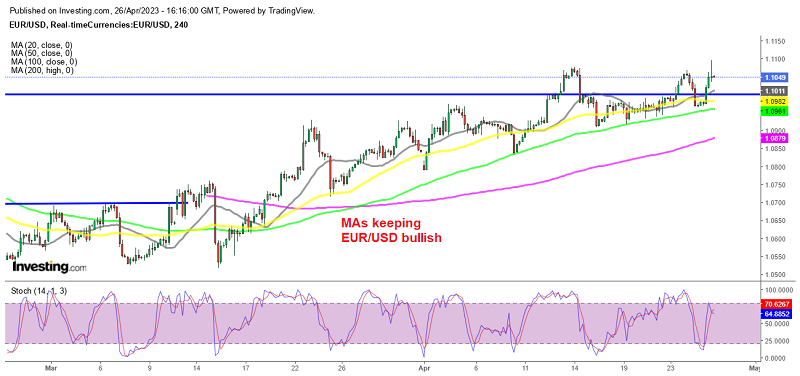 Mixed Durable Goods Orders Not Helping the USD
Today, markets are feeling better as the sentiment improves after the deterioration on First Republic Bank vowes yesterday. Risk assets such as the Euro and the GBP have rebounded from yesterday's lows and EUR/USD popped higher, reaching close to 1.11. Treasury yields have also slightly increased.
PacWest Bancorp's shares have rallied by 14% in pre-market trading after reporting that its deposits were in line with estimates. Although, First Republic's shares have continued to slip lower, falling by 15% today to $7.10 in pre-market trading and hitting a low of $5.55, after a 44% decline yesterday. JPMorgan's equity desk has noted that Visa's transaction results show a 10% year-on-year increase in real terms, indicating that consumers are still in good financial health and the sentiment among consumers remains robust.
Today it seems like markets have differentiated between First Republic Bank and other regional banks, so it's now weighing down on the industry. The US durable goods orders, advance goods trade balance numbers, and wholesale inventories were released a while ago, showing a jump in the headline number, although core orders disappointed.
The US Census Bureau reported that orders for long-lasting goods (durable) increased by $8.6 billion or 3.2% to reach $276.4 billion in March. This was a significant increase from February's contraction of 1.2% and exceeded the market forecast for a 0.8% rise.
If transportation equipment is excluded, new orders still grew by 0.3%. Excluding defense, orders increased by 3.5%. Transportation equipment, which had decreased in the previous two months, led the growth with an $8.1 billion or 9.1% increase to reach $97.4 billion.
US March 2023 Durable Goods Orders Report
March durable goods orders +3.2% vs +0.7% expected
February durable goods orders were -1.0% (revised to -1.2%)
Non-defense capital goods orders ex-air -0.4% vs -0.1% expected
Prior non-defense capital goods orders ex-air -0.1% (revised to -0.7%)
Ex transport +0.3% vs -0.2% expected
Ex defense +3.5% vs -0.8% prior
The headline here is misleading as the core orders number is soft along with a negative revision. The downwardly revised prior is the lowest reading since February 2021. The Euro popped 40 pips higher after this release but has reversed the gains.