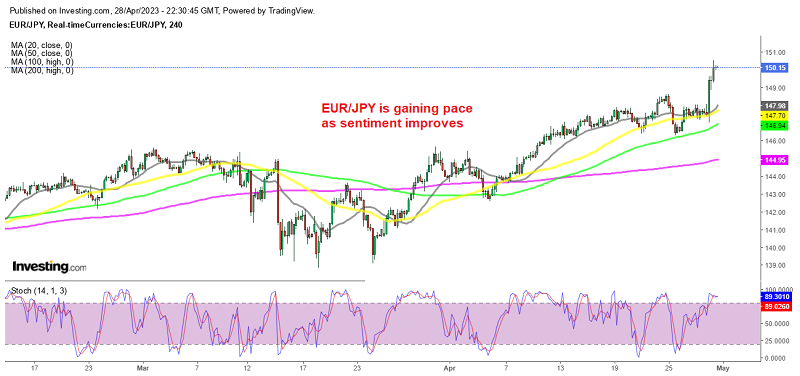 New BOJ Governor Ueda Sends EUR/JPY Above 150
The Japanese Yen has been bullish since January although the uptrend started picking up pace in late March, as the banking crisis got under control, although it is resurfacing again now with First Republic Bank vowes. Besides that, the new Bank of Japan governor didn't give signals of tightening the monetary policy. On the other hand, the Euro has been gaining as the sentiment improved.
This has been keeping EUR/JPY bullish for around six weeks, and moving averages have been doing a great job acting as support, holding during retraces lower. On Friday morning, the EUR/JPY exchange rate was retreating lower, but the 100 SMA held as support again. The price bounced off this moving average and to 150.50, following news from Japan. The country's unemployment rate rose to 2.8%, which was higher than expected and last month's rate of 2.6% as well as the same period last year. The only time it was higher was in the summer of 2021 at 2.9%.
Market participants also kept a close eye on the Bank of Japan's meeting, which is now headed by the new governor Kazuo Ueda. As anticipated, the Bank of Japan confirmed that it would maintain its ultra-low interest rates. However, it was also announced that the bank would undertake a "comprehensive review of monetary policy."
This review may set the stage for Kazuo Ueda to phase out the massive stimulus program pursued by his predecessor. The level of 148 yen per euro, which previously acted as resistance, may now turn into support for bulls after breaking through the psychological barrier of 150 where the price closed. They were unable to reach this level in 2014.
This pair is now at a level not seen since 2008, which reflects the challenges that Europe has faced since then. This situation underscores the significant impact of interest rate differentials, as the ECB continues to raise rates while the Bank of Japan maintains its current rate at -0.10%.
Now after the close above 150.00, it has opened the way for further gains up to 165.00. However, this would require strong economic resilience in Europe, along with a moderation in inflation that would not raise concerns about central banks overreacting. It would also require the Bank of Japan to maintain its Yield Curve Control (YCC) policy.
EUR/JPY Live Chart
EUR/USD should break below 1.06 this week with the business climate and inflation softening further in September
3 days ago