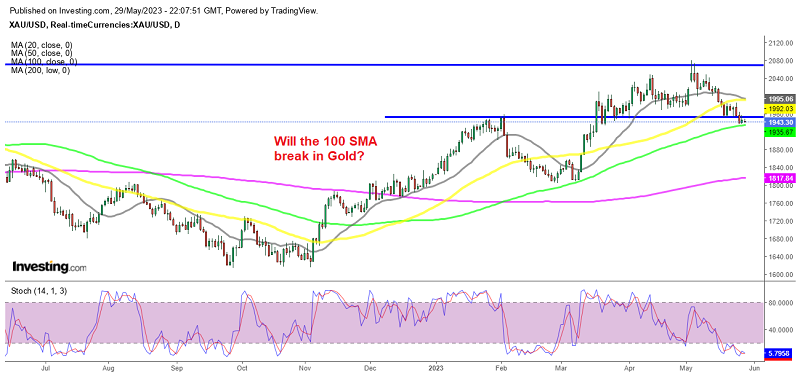 Gold Opens the Door for Further Declines If the 100 SMA Breaks
Gold has been bearish since reversing at the beginning of this month, after failing to make new record highs above $2,075. The reversal has been quite steep and the 50 SMA (yellow) didn't offer much support on the daily chart, while the 20 SMA (gray) was broken after offering some slight support.
Yesterday Gold prices experienced a slight decline which was due to a tentative deal reached over the weekend to suspend the U.S. debt ceiling, along with concerns about the possibility of higher interest rates for an extended period, which dampened demand for XAU/USD. Spot GOLD ended the day down by 0.1% at $1,943.030 per ounce, remaining close to the two-month lows reached on Friday.
That's where the 100 SMA (green) stands on the daily timeframe. This moving average held twice during the previous retreat in late February and early March and might do so again. Although the decline has been quite strong and the trend is turning bearish, unlike back then when the trend was bullish. Besides that, the price is sticking to the 100 SMA so chances are that we might see a break lower.
Gold's appeal as a safe-haven asset was affected by U.S. President Joe Biden's announcement over the weekend that he had finalized a budget agreement with House Speaker Kevin McCarthy to suspend the $31.4 trillion debt ceiling until January 1, 2025, which is now set to move to the US Congress for a vote.
Furthermore, data released on Friday indicated that U.S. consumer spending in April exceeded expectations and that inflation had accelerated. This report increased the probability of a 25-basis-point interest rate hike by the FED in next month's meeting to 65.3% and suggests that rates would likely remain at that level for the rest of the year. Although today we have the Conference Board consumer confidence report which is expected to show weakening, so we'll see if we will get a surprise.
Gold was taking advantage earlier this year as markets were anticipating a recession ahead and inflation was slowing down fast. But it appears that price pressures in the economy are persistently high, and there are minimal signs of economic weakness. As a result, Gold could continue to face downward pressure, particularly if the 100 SMA is broken.